Having a treat of your favourite foods can certainly contribute to your happiness during a long winter. In a time when some of our usual activities have changed, good food is still important, but getting to some of our favourite places to eat out may not be as easy.
We are very lucky in Huron County and the surrounding area to have some amazing restaurants and eateries, but many of them have been struggling over the last few months with restrictions because of the pandemic, and winter will not be easy for them. Some may have always had the option of take-out, but for others, it is a new chapter for their business and we wanted to celebrate a small selection and share a few hints to make that winter take-out experience even more enjoyable.
In the summer we all love to grab a favourite food and spread out a tablecloth on a picnic bench or under a shady tree, but this is not possible in the cold months. So, many of us will be taking food home to eat, or indulging in a car picnic.
Here are a few tips to make that a better experience.
Don't put your cooler away! The same cooler you use for keeping things cold in the summer can also help to keep the food you pick up warm for the drive home. Even a clean cardboard box lined with a bit of newspaper will help to insulate the packages. Most take-out spots will have a plastic bag to carry your dishes, but as we move away from single-use plastics, maybe keep a couple of tea towels in the cooler to add insulation, catch any drips and then remove and launder when you get home. A good, old-fashioned hot water bottle will also help, tucked in next to the food, or just to warm up the cooler or box on the way to pick up your order. Another trick that works well if you are alone in the car on the pick-up run is to put the heated seat on for the passenger seat and place your food on there.
Eddington's of Exeter has put a lot of work into its website, including many convenient features to make online ordering quick and easy. The restaurant has a wide range of excellent food from both its lunch and dinner menus and you can even order beer or wine to pair with your meal. www.eddingtons.ca
Sometimes we do have glorious days in the middle of winter where you may want to eat in the great outdoors. So how about making up a picnic basket full of the extra items you might want for a snow day picnic? Pack a box, basket or bag with some extra dining essentials: napkins or paper towels and a few of your favourite condiments in reusable plastic. Just remember to take any of the liquid items back into the house after your picnic, as they might freeze and burst if left in the car. It's never a bad idea to carry some reusable cutlery and straws in the car, and by keeping a stock of them handy, you are both reducing potential waste and your stress if some items are not with your order. Add small Thermos of warm water and a little bottle of hand or dish soap, a towel for drying, and a suitable container for your leftovers. And don't forget something for any garbage which you should also take home and dispose of properly. Packing all of these things into a plastic tub allows you to use the tub to wash hands or rinse plates and cutlery.
The Blyth Inn has a full menu online, including its famous chicken wings. The restaurant is happy to supply you for your next TV binge watching evening, or ready for your family at the bottom of the sledding hill. Call 519-523-9381 or check out www.blythinn.ca
Another way to give yourself a night off from cooking is to grab some frozen entrees some restaurants may offer. When an item is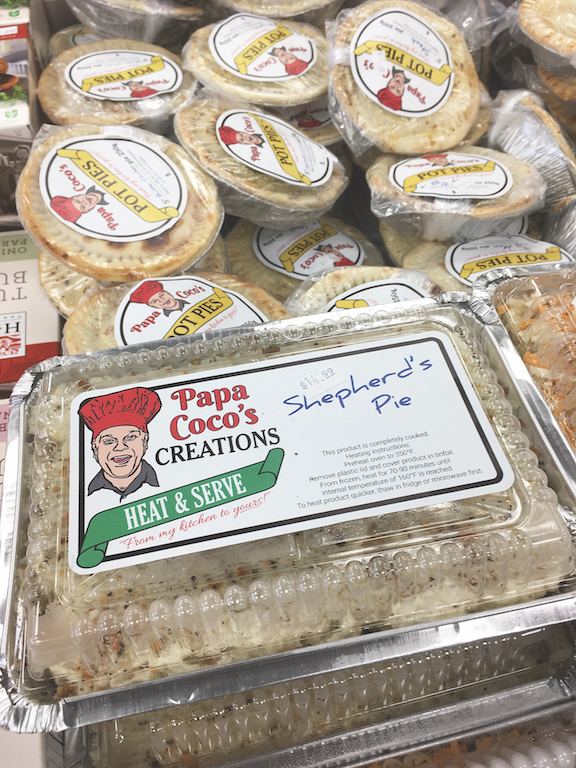 popular, restaurant patrons often ask if there is a cook-at-home version. One restaurant, The Docks in Bayfield, has been quite successful in creating and distributing Papa Coco's meals and sauces, including casseroles and popular meat pies. They are not only available at the restaurant but also at other retail locations across Huron County like Shanahan's Quality Meats in Goderich, Blyth Ultramar, and The Old Mill in Blyth. Call The Docks at 519-565-4455 or check out its Facebook page for lots of Papa Coco wisdom and tips. Recently the restaurant has also stepped into the world of frozen food fundraisers - definitely a proud community supporter.
When you order food, please be courteous to the staff as this may be a whole new way to serve their food for some. It can take time to adjust to a new way of doing business. It never hurts to ask a few questions about how restaurants are operating and if there are new restrictions in place. Some places may be offering a limited menu or they may only be open on limited days and times. You can give them a call to ask, or check out their social media to make sure you know what to expect. Plan ahead if your favourite restaurant is only open certain days and be sure to call in advance. Do they prefer an order the day before? Or with a specific pick up time? If you do set a specific time, make sure to honour their work and be there as close to that time as possible. They are making your food to be at its optimal freshness.
Do they have new restrictions about doors to enter or a new take-out window? It's good to confirm that in advance too. Check how the restaurant prefers to receive payment and make sure you have the appropriate type of payment method. And even though you are not receiving service to a table, it is a nice gesture to tip.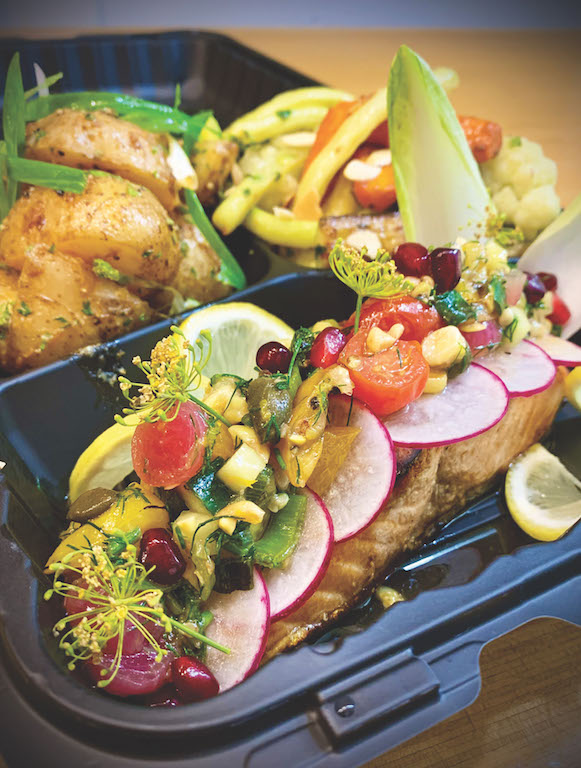 The White Carnation in Holmesville has a take-out service available every Saturday and Sunday from 4-7 p.m. They change the menu weekly and offer a selection of salads, mains and deserts. The staff is happy to offer vegetarian or vegan options, but please call in advance. Connect with them at www.whitecarnation.ca or call 519-482-9228.
One of the best tools we have to help out these important businesses in our community is word-of-mouth advertising. Tell your friends if you enjoyed a great experience and let them know how it all works if take-out is a new venture for this business.
Be friendly and polite to staff members or talk to and offer them some encouraging words in these tough times.
Once you have enjoyed your meal, consider letting them know by posting on their social media. Too often people only use those vehicles to complain, so let's turn that around and cheer on the places you love, so they are still there when you are hungry again. We can make this winter much more satisfying by indulging our families with great meals and supporting our friends and neighbours who run and work at your favourite places.