Shopping for gently used clothing in Huron
by Nancy Fisher
With so many people pinching their pennies to protect their pocket book; and more folks making choices that consider the impact on the environment, it's no surprise that thrift shopping is on the rise.
We thought we would do a round-up of different types of second-hand clothing shops in Huron. Primarily we are looking at shops that sell used, second-hand, or vintage clothing. Many of these shops also sell household items too - but that's another story!
Second-hand clothing just makes sense. Manufacturing, producing, packaging and distributing new clothing takes a lot of energy and water. In this age of increased consumerism, many people own two or three times more clothing than previous generations. And because we buy so much, it is estimated that people can throw out 60 to 80 pounds of textile waste each year. Donating and buying second-hand clothing instead of brand new, can reduce waste and help the planet.
But the other great reason to consider second-hand is the cost savings. Let's face it - we all need to find ways to spend a little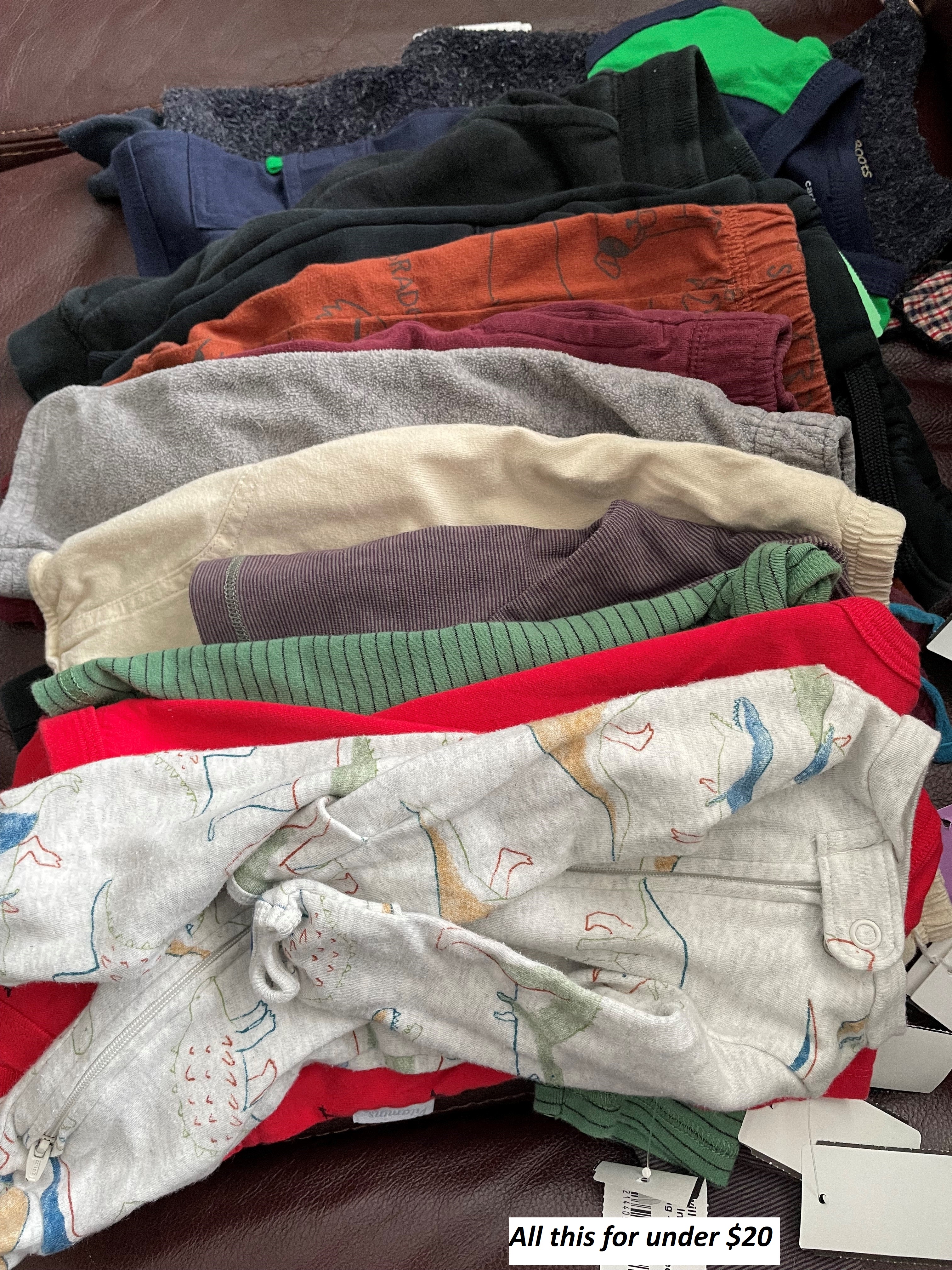 less these days. And there are bargains to be had if you look for them. Part of the great joy of thrifting is finding that treasure, but it takes time to build super thrifting skills.
;
It is a different type of shopping. You don't find racks and racks of the same item in different sizes and colours, but that can also be part of the appeal: more unique items and the choice of a broader variety of styles all on the same rack. You do have to be willing to spend some time scanning what is on offer. You are not going to find the latest trends. Items are not put out exclusively for the current season. We have some top tips below on how to make your thrift shopping more efficient and successful.
There are a few categories of shops that sell previously-worn clothing and it helps to know what the pros and cons of each type can be.
The larger chain style stores are well known brands in the thrifting world. Locally we have Goodwill at 355 Bayfield Road, Goderich. These are well organized and well-stocked stores. They price by category and are busy enough that stock turns over quickly. They offer discount days (sign up for e-mails) and are an easy place to drop off your donations as well. They also carry non-clothing items and a limited amount of furniture.
Some other well-known names are charity based. The Salvation Army (309 Suncoast Drive Goderich or 205 Josephine Street Wingham) is one of the oldest thrifting spots and has been helping people through difficult times for many, many years. The stores are well-stocked and have good pricing.
Also in Goderich is the IODE's Opportunity & Consignment Shop, affectionately known as the "op" shop at 3 North Street, and St. Vincent de Paul at 441 Macewan Street. These smaller shops are run entirely by volunteers. Prices can vary and they may have less variety than some of the larger stores.
In Clinton, Of Rack and Room at 12 Albert Street is well-known and loved, especially for its amazing window displays. They change out stock based on seasons and also offer window items on a set day. This is a good one to follow on Facebook. They carry household items as well.
In other areas of the county are Noah's Ark, housed in the Pentecostal Tabernacle at 670 Main Street, Exeter, Arc Angels at 140 Main Street, Dashwood, and Blessings at 45 Main Street, Zurich. These shops are very important locations in their respective communities and support people and charities that do great things. They may be smaller but they are mighty.
A couple of shops specialize in infant and children's clothing. The Little Shop at 355 Main Street, Exeter is a consignment shop and helps to support the South Huron Big Brothers and Big Sisters. It is well organized and friendly. The Red Door at 57 & 59 Hamilton Street, Goderich is also a children's consignment store (with some maternity clothes too). In addition, they carry new toys and gift items for children. This family-run shop has a lot of choice and good pricing.
I Want That Bag at 625 Campbell St Lucknow, is a very popular spot and has fans from far and wide. It is a consignment shop that carries a lot of clothing and accessories and a few gift items as well. Consignment shops have different pricing to meet the needs of the shop and consignors, but every piece is looked over by staff, so expect to pay a bit more, but also for the quality to be higher. Even though it is run as a business, this shop does a lot to support the community as well.
If you are looking for a more boutique experience, check out Pick a Posie Vintage at 345 Queen Street, Blyth. This shop carries a curated collection of unique and vintage items and the prices will reflect that. Operated by a professional costume designer, this is where you are going to find that fabulous piece that sets off your wardrobe. Check out the jewellery selection for some great pieces!
Remember these shops rely on your donations or consignments of items as well. Be a thoughtful donor and only send clothing that is clean and in relatively good repair. Some things are actually only good enough to be used as rags or thrown away. Don't make it harder on the good folks who will be sorting through your cast-offs.
When something is good for the planet and good for your wallet, isn't it a no-brainer?
Top Ten Thrift Shopping Tips
Know your sizes and have a visual idea of what they look like. Sizes can vary between brands and pre-worn clothes that have been washed can be smaller than new pieces. It never hurts to carry a tape measure to double check.
Know your best and favourite colours. When scanning down a rack of mixed items, it helps to eliminate some simply by colour. Many shops organise racks by colour as well as size.
This can work for fabrics too. If you are looking for all natural fibres, it helps to know what they look and feel like before you have to dig for a label. This is equally true if you don't want items that require special care and washing.
Inspect your items carefully. It is not a savings if there is a large stain that can't be removed. Check high wear points and the seams for rips.
That being said, it helps to be able to do minor repairs yourself. Is there a button missing? Check to see if there is still a replacement button on a selvedge, or if you can move a button from another spot on the garment. Many repairs can be done with a simple bit of hand sewing. Or, if you have good sewing skills, you can alter the style or size.
Know brands. Recognizing quality brands is the best way to get more value for your dollar. The savings may not be all that much if the item originally came from a discount retailer.
Shop off-season. Look for jackets in the summer, sandals in the winter. People clear out wardrobes at the end of season, so plan ahead.
Make sure to check out the accessories. They can often be items someone was gifted and immediately donated, or it might have been an impulse purchase, or even an item used/worn only once. Their discard or mistake might be your treasure!
Kids' clothes - Little ones grow so fast! There are great deals to be had and why pay top dollar for something your kids will wear for two months?
Sign up for e-mails from Goodwill so you know when they have discounts. Follow other shops on social media so you know when they change out stock or have sales.