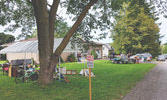 Huron County Tradition - Town Wide Yard Sales
Who doesn't love a bargain? The saying that one man's trash is another man's treasure probably evolved out of society's love of a good yard sale.
In our throw-away society, it's easy to forget that when we are done with something, someone else might just have the perfect spot in their home or that a broken appliance or piece of furniture might find a second life if the right person were to come across it.
Finding an area where you can park your car and walk for blocks through multiple yard sales or finding a large site with multiple families hosting a joint sale can feel like a festival. The development of the town-wide yard sale has been a decades-long tradition in Huron County. From the early spring ones, like Auburn, where everyone is still wearing a parka to the smart marketers in Blyth who tempt the campers from the annual reunion of the Huron Pioneer Thresher and Hobby Association, there are likely more sales than any one shopper can hit in a single season. The challenge is on - how many can you find this spring and summer?
The list below is based on the traditional dates the towns have done in the past, and while we strived to confirm all, some information was pending at press time. As dates get posted, www.townwideyardsale.ca seems to have the most accurate information to follow as a central data source.