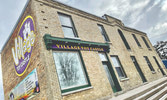 Village Toy Castle - Brucefield
While travelling for work, filmmaker Isaac Elliott-Fisher was looking for small unique toys to bring home to his young son. He was really looking for knights and castle figures and could not find toys that allowed for imaginative play. This quest led him to investing in the equipment to make them himself. So started the journey that led to a new toy store, toy museum and interactive play zone in downtown Brucefield. He bought a building in need of much repair and has spent months converting it into The Village Toy Castle, a destination where all members of the family are entertained.
The toy store will carry not only his own designs (Definitive Toys), but commercially available toys from major brands, and, eventually, toys from other local makers. Along with toys, there will be retro candy and unique treats for the kid in all of us.
The second part of the shop will be a toy museum showcasing much of his own collection, as well as pieces he is sourcing. This wall of nostalgia will be a journey through time looking at toys from the 1950s to 1990s, bringing back happy memories of playtimes past. Elliott-Fisher has worked on several documentaries featuring toy brands and is a wealth of knowledge on the history of toys and toy making.
Also in development is a play zone for the kids to wear off a bit of energy. His experience as a dad has offered him first hand insight into what will appeal to young kids, but also to the big kids in their lives. Approximately 50 per cent of the space is a retro experience for adults. In the future, he hopes to have special events including other vendors.
The building is large enough to house his manufacturing facility and there will be an opportunity to get a glimpse of the toymaker's workshop through interior windows. The building is being preserved to retain some of the old world charm of its heritage, while also providing a 21st century shopping and entertaining experience. Opened for Christmas season 2021, future hours will vary as the building continues to be refurbished. Follow along on Facebook and Instagram and www.villagetoycastle.ca for hours of operation and special events.
The development of Elliott-Fisher's own toy brand can be found @definitivetoys 22 London Rd., Brucefield.