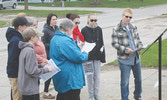 Revealing a top-secret air base
The Royal Canadian Air Force Base in Vanastra, which was once declared top-secret, is now the setting for a new heritage walk that celebrates the community's history.
The walk was created last year as a Jane's Walk – part of a worldwide network of walks created to honour Jane Jacobs, the late journalist, author, urban planner and community leader – which attracted over 150 people who attended the ribbon-cutting and inaugural walk.
Thanks to the foresight of Huron East Council, 10 heritage plaques line the trail, offering information and historic stories about the community that was so important to the Canadian Armed Forces for so many years. The site was integral in the development of RADAR in Canada.
A large sign directing visitors to the heritage walking trail has been erected at the Vanastra Recreation Centre. The centre serves as the natural beginning of the trail and the history of the community.
There are also plans to plant a small garden at the base of the large sign, that will also be home to a series of black and white photographs celebrating the site's history.
For more information, visit huroneast.com.