The Whole Pig
Dashwood is home to a family-run farming operation with a singular goal - putting pork on Huron County forks.
The Whole Pig (TWP) caters to all kinds of pork enthusiasts, from those looking to impress friends and neighbours by slow-roasting a whole hog at their autumnal pig roast to the cooking-averse looking to pass off a crockpot full of TWP's best-selling pre-cooked pulled pork as their own to score potluck points at the school fundraiser.
Teresa and Martin Van Raay are third-generation farmers with a serious passion for all things pig. They believe that having a deeper connection to the food we eat makes it taste better, especially if the thing you're tasting is pork. The Van Raays have had a lot of experience raising pigs from farrow-to-finish. While they've recently started outsourcing the farrow side of things, they still believe in a hands-on approach to raising their animals with love. The retail side of things is a bit newer to them, but they love the feedback that comes from dealing directly with customers. Ask Teresa Van Raay about the benefits of pork and you'll get to hear her sing its praises - higher in protein than other animals, lower in fat, and huge on flavour. She raised her family on pork, and is here to get the word out.
A sign with TWP's adorable curly tail logo leads visitors down a gravel driveway to their farm store, where you can stock up on over 100 different products that come from their own pigs. Smoked chops, bacon cheddar sausages, ground pork, and bacon in whatever thicknesses you desire are just a few of their available options. They also stock a wide variety of pork accoutrements sourced from across Ontario, from the avant-garde condiments of Funky Ferments from Holstein to the Warriner Family Farm's timeless bean soup mix that comes all the way down from Trout Creek. Maple, oak and cherry wood are used for their smoked meats, and every option has a tantalizingly small list of ingredients - for instance, the Carolina BBQ sauce they use on their pulled pork is just cider vinegar, ketchup, cherries and brown sugar. The Van Raays believe in the flavour of their animals, and want to use the best ingredients to showcase it. Quarter, half or whole hogs are available for pick up or local delivery.
Just because the Van Raays have a real reverence for their animals, it doesn't mean they don't have fun conceptualizing their finished products with their talented team of chefs.
Their breakfast loaf is basically a gourmet SPAM, which can be used in a wide variety of creative culinary applications. They are also the inventors of the Tiara Roast, which is a bit like a crown roast, but different. The team also comes up with themed variety boxes and packages for all occasions, like The Breakfast Box, which comes with the bacon, sausages, and peameal you need for an all-hour brunch or The Weekender Box, which contains pulled pork, Black Forest ham, bacon, burgers, sausages and porkerettes - everything a group needs for a chill long weekend where everything tastes amazing but nobody has to work that hard at it.
Another example of the Van Raay's dedication to the hog - their website https://thewholepig.ca offers up their favourite recipes as well as food safety tips. They also do public speaking and cooking demonstrations to get the word out on their all-time favourite animal.
While their winter hours are reduced to Friday from 11 to 6 and Saturday from 9 to 1, and Monday through Thursday by appointment (519-851-3327) only, they have an easy to use online ordering system (orders can also be made by phone or email) and an after hours pick-up freezer means you can get your pork on at whatever time is convenient to you. 37871 Dashwood Road, Dashwood.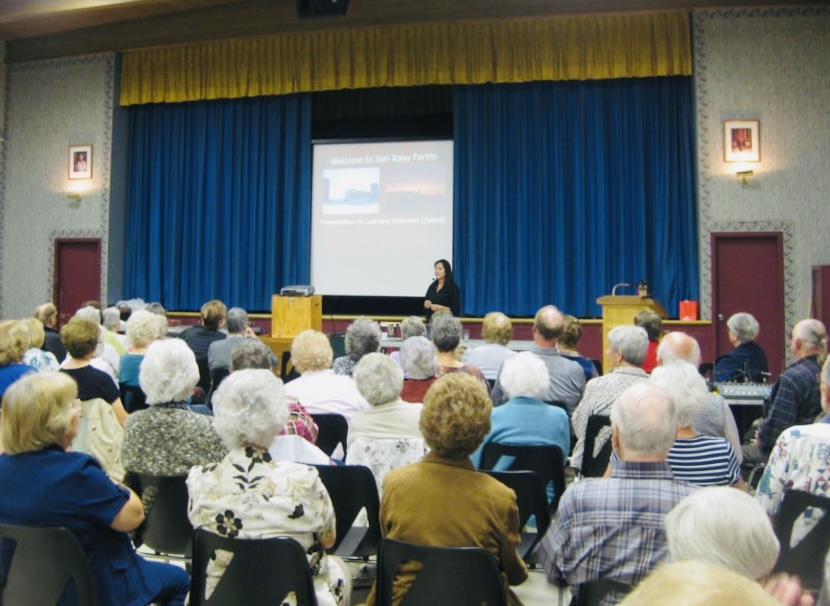 Teresa talking pork...