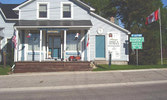 The Olde Tyme Radio Centre
A few people are lucky enough to turn their passion from a hobby to their livelihood and Gary Clayton is one of that rare breed. He has always loved antiques and has spent a lifetime refinishing them. In 1988, while living in Walkerton, he found a niche market in restoring beautiful antique floor model radios. By 1992, he was busy enough to need a storefront and founded The Olde Tyme Radio Centre in a former hardware store right on the busy main street of Belgrave.
The business has grown over the years and the collection now consists of more than 700 radios on the property, as well as 400 car radios and some 300 speakers hanging in the rafters. As well as restoring radios and gramophones to sell, Gary is sought after by many enthusiasts and says his "bread and butter" is repair and restoration work for others. He does all of the work to rebuild any make or model, including refinishing the cabinets and rebuilding the interior works, drawing from his inventory of over 25,000 tubes.
The store has two showrooms and a well-maintained website that goes beyond radios to include organs, clocks, furniture, televisions, record players and gramophones and telephones. There is even a page online for "this and that", as Gary has a keen interest in everything old.
The collection must be viewed to be appreciated. In pre-COVID19 times, Gary and his wife Nellie would set up at various car and antique shows and he hopes that he can soon continue that tradition. In the meantime, the shop is open (subject to provincial health regulations) but Gary recommends that you call ahead to be sure. 9 Queen St (Hwy 4), Belgrave. www.oldtymeradio.ca 519-357-4304