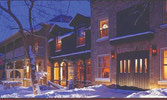 The Little Inn
The Little Inn of Bayfield is an iconic landmark on the town's charming main street. Originally built in 1847 as a stagecoach stop, the inn has been welcoming visitors ever since, making it one of the oldest continuing operating hotels in the country.
And while recent extensive renovations maintained the heritage charm on the exterior, the accommodations have been lovingly updated to give guests a unique experience that balances historic charm and modern comfort.
Mike Oliver, the present owner took the reins in 2014 and has been transforming the inn with business partner Jamie McDougall ever since. Oliver had left the corporate world, where he had extensive experience with international travel. With this insight into travel needs, he set about giving his guests the best experience. He says that it's all about "a great sleep, a great meal and a great village to enjoy."
The Little Inn features 17 rooms and three dining rooms, including the formal dining room and the taproom. The Four-in-Hand taproom is becoming increasingly popular. A gastropub with a casual menu, it's the perfect place to relax over drinks and dinner with friends.
The owners, along with their head chef, have put together a menu that features locally-sourced and seasonal ingredients. In addition to their menu that Oliver describes as "casual fine dining", their chef, Jim Welsh, creates three to five specials each day, such as lobster fettuccine or wild mushroom pasta, but you have to order early as they often sell out. The most popular item on the menu is the Great Lakes pickerel, which is sourced locally. Oliver's personal favourite is an amazing Thai red curry that has a very unique flavour profile.
The Little Inn is rated in the top 10 per cent of all hotels by Tripadvisor - quite an achievement.
Reservations are recommended. 26 Main Street N, Bayfield www.littleinn.com