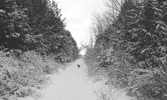 G2G at Walton
Just south of Brussels, in the village of Walton lies the former CPR railway line that was abandoned in 1988. Over the next 20 years, various organizations leased portions of the line for recreational use culminating in the formation of the Goderich-to-Guelph (G2G) Rail Trail Inc., a non-profit organization whose mission is to maintain the entire 127-kilometre length as a multi-use corridor of green space for hiking and biking.
For many years, sections that were farther from the urban endpoints, including the Walton area, were unkempt and provided a challenging experience especially for cyclists. In 2020, the group was finally able to complete an end-to-end refurbishment, including brush clearing, grading and surfacing with stone dust. With this accomplished, the G2G Rail Trail has truly been transformed into a world-class path and is attracting users from all walks of life to hike and bike either portions or to complete an end-to-end trip.
The rail trail is user-friendly any time of the year and in the winter sections are shared with local snowmobile clubs as part of their sanctioned trail system. (Snowmobiles are the only motorized vehicles allowed on the trail, other than maintenance equipment authorized by the organizations.)
The section around Walton is becoming known for its pastoral views across expansive farmland and the wooded hedgerows that frame much of the trail. Area businesses and accommodations are becoming trail-friendly providing amenities and shuttle services, where possible. Make sure that you check out the website www.g2grailtrail.ca, and join the conversation on Facebook for helpful tips.