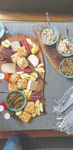 Tasting Huron County
With the COVID-19 lockdown in place, recently returned Huron County resident Mandy Sinclair took to the trails – the Goderich-to-Guelph Rail Trail, the Maitland Trail and smaller loops including Bannockburn near Bayfield and the Millennium Trail in Goderich – and admired how the seasons changed on the trails. And to the local cafés, bakeries and producers across Huron County. All the while, strategizing her latest venture: Tasting Huron County.
Hailing from Clinton, Sinclair spent 10 years in Morocco where she launched Tasting Marrakech food and cultural tours. She recently decided to bring the concept to Huron County.
"Having returned in July 2020, I thought I would stay just a few months before returning to Marrakech, Morocco," says Sinclair. "But I started exploring the local food scene and spent many lockdown days cycling or walking on the trfails. When it became clear that I wasn't going anywhere throughout the winter, I bought snowshoes and started exploring the Maitland Trail along the Maitland River and the ideas for Tasting Huron County came to life."
With two options – Tasting Huron County Breakfast Table and the Along the Way picnic delivery, Sinclair curates what she deems her favourite brunch and picnic essentials from producers across the county and delivers the curated food experiences directly to guests within Huron County. But it's not just about the food. Emphasizing the outdoor spaces is also important.
The Tasting Huron County Along the Way picnic option allows travellers and locals alike to taste homegrown flavours against a picturesque natural backdrop. Part charcuterie board, part classic Canadian picnic with all products sourced from within Huron County, Sinclair will deliver to guests either to a park, campsite or even to the home for those who prefer a backyard picnic.
"I love the idea of throwing down a blanket and listening to the sound of the Maitland River trickle by in the summer months, or watching the sunset over Lake Huron with a few friends and some great food," says Sinclair.
While the menu is subject to change based on new discoveries and products available, the picnic typically includes a selection of cheese and meats, honey and maple products, cold salads and a selection of desserts. Sinclair likes to compare her deliveries to that of a haul from a Huron County-wide farmers' market.
To book or for more information, visit tastinghuroncounty.ca or e-mail info@tastinghuroncounty.ca.