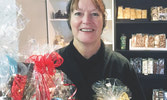 Sweets N' Treats
Debbie Busby, founder of Sweets N' Treats on the B Line at the north end of Wingham, has been passionate about chocolate since 1996. The business started in her kitchen for Halloween that year and eventually took over her entire house with up to 16 employees working to create a wholesale line of chocolate creations.
In 2005 it moved to the current location and began to focus on the retail business. Sweets N' Treats now concentrates on its handmade chocolate and gift baskets. The store also carries gifts and has recently brought in Marie Sharp's, a popular line of hot sauces from Belize.
One of the most popular items is a piñata cake - a hollow chocolate shell shaped to look like a cake that is filled with treats and ready to be smashed open, making for a fun wedding tradition.
The store has been able to continue hosting sweet parties for small social bubbles at the store, whether it's a birthday or a bachelorette party. It's a great place to host a party for any occasion, other than during their busy season in November and December when they just run out of elbow room.
Valentine's Day is one of the most important holidays of the year at a chocolate shop. Show your true love how special they are with chocolate-dipped strawberries, a chocolate-dipped fruit bouquet and the perennial favourite, chocolate roses! And for the bacon-lover who has stolen your heart, Sweets N' Treats has stepped up its game with chocolate-covered bacon and, wait for it…. chocolate-covered bacon with caramel!
Conveniently located across from Hodgins RONA, ladies can send their hubbies across the street to amuse themselves while they satisfy their chocolate craving. 519-357-3663. 14 B Line Road, Wingham. www.sweetsntreatschocolates.ca