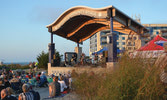 Summer Sunset Sounds
Back for their eighth year of pairing music with sunsets, top musical acts from Huron County and beyond will be taking the stage in Grand Bend as part of the Summer Sunset Sounds series.
The concerts are held on Sunday evenings every summer weekend on Grand Bend's main beach and all concerts are free of charge.
The acts chosen every year come from a broad range of musical genres, touching on everything from country music to blues and independent acts.
The outdoor stage was designed to take advantage of the gorgeous scenery, while onlookers are treated to a beautiful view of Lake Huron and a front row seat for one of the most beautiful sunsets in all the world.
This year the line up proves to be a big draw, with a balanced mix of talented local musicians and big names from across the country and beyond.
Monday, July 4 - Shewolves of London
Sunday, July 10 - Mackenzie Blues Band with special guest CJ Lee
Sunday, July 17 - The Red Hill Valleys with special guest Deni Gautier
Sunday July 24 - Angelique Francis with special guest Carly Thomas
Sunday, August 7 - Mudmen with special guest Brothers Wilde
Sunday, August 14 - Lyndon John X with special guest Holly Clausius
Sunday, August 21 - Valdy with special guest The Wanted
Sunday, August 28 - Steel City Rovers with special guest Twin Fin
Attendees are encouraged to bring a lawn chair and enjoy the excellent music. For more information, visit the festival at www.summersunsetsounds.ca