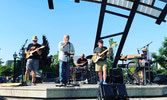 Downtown

Goderich

summer events
By Nancy Fisher
The fun never stops when you circle The Square in Goderich. Now that festivals and events are back in full swing for the summer of 2022, the lineup of things to do downtown is an ever-growing list. The Thursday evening concert series has returned this summer featuring lots of local talent on the bandshell stage in Court House park. This free event draws enthusiastic crowds who stroll about the park sipping beverages or munching on great local food. There are permanent benches or you can bring your own chairs and blankets for a fantastic mid-week alfresco concert from June until the end of August.
Once all the approvals are received the Goderich BIA is planning additional entertainment outside of Thursdays with an event aimed at the younger (and young-at-heart) folks with a punk rock concert on Friday July 15 and again on Saturday August 13 an all day "Rock the Boat" music festival is sure to have something for everyone.
The Summer Sizzler weekend from July 21 to 23 will include sidewalk sales, an outdoor Makers Market, a movie night with the blockbuster Free Guy and the "Memories Then and Now" car show.
The Square is the ideal home for markets of all types. Another Makers Market will be held in August with more great live music, and of course you can count on the Farmers Market every Saturday for great local produce and more.
After a two-year hiatus, the Downtown BIA Sunday Markets are returning with a little something for everyone from a specially curated collection of vendors offering food, vintage and collectables and crafts.
Check out the www.goderich.ca webpage for up-to-date details of all these events and more.