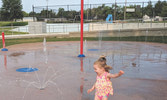 Splash pads in Huron
While Huron County is well-known for its beaches along beautiful Lake Huron, wading in to the water or diving off a nearby pier aren't the only ways to get wet in the area.
Many Huron County communities have installed splash pads as a low-maintenance alternative to full pool facilities, or as additions to those offerings, to make for an easy way for kids of all ages to cool off during the summer months.
Between jets of water spraying upwards, aimable water cannons and showers pouring down from above, the sites below offer ample opportunities for people to enjoy water in the summer months in a unique way that doesn't require cleaning sand out of every nook and cranny afterwards.
The Clinton Splash Pad (95 Park Lane) opened to the public in 2017, and was part of a major infrastructure project unveiled earlier this year when new washrooms and change rooms were connected to it via accessible pathways. The site offers a great chance for visiting families to find something for everyone, with a playground, pool Continued from page 30 horse raceway and local casino within metres of the site.
Wingham's Riverside Park (West Riverside Park, William Street), located unsurprisingly by the Maitland River in the community, opened in 2005. It features upward jets, archways and a mushroom-shaped shower to help visitors cool off in the summer heat. The site is open from 9 a.m. to 9 p.m., May through September.
Goderich's Victoria Park Splash Pad (80 Victoria Street North) took the place of the community's former outdoor pool, creating a different way to get wet. The splash pad includes button-controlled water
features that change functions and provide plenty of sun and splash fun. Aside from the splash pad, the site also features playground equipment and tennis courts, providing fun for all ages.
The Exeter Splash Zone (2-70 Andrew Street) is open all day from late May to September. Featuring a unique design including mushrooms, butterflies and plants, the park offers plenty of ways to get wet without having to get in the pool. The site includes a playground as well as a pavillion providing plenty of space for families to take a break while their young ones enjoy the splash pad.
The Hensall Splash Pad (157-171 Oxford Street West) opened in 2014, and was a project led by the Hensall Kinsmen, among other community donors. The site is open from 9 a.m. to 8 p.m. daily and closes in mid-September. The pad includes colourful features providing plenty of water-based fun for visitors. The site is located beside the Hensall Community Centre and at the same location as the Kinsmen Pavilion and playground equipment, providing a great place for the entire family to visit.
The Bayfield Splash Pad (Clan Gregor Square, 6 The Square) offers a unique opportunity for families to spend a day taking in some of the best Huron County has to offer. The site is open 9 a.m to 8 p.m. daily until mid-September. If visitors plan an outing for a Friday, not only can children enjoy the splash pad and nearby playground equipment, but the entire family can visit the Bayfield Farmers' Market as well. Also located near the splash pad, which the local Optimist Club has made possible, are change rooms and washrooms, making the spot a quick and easy stop for families.
Aside from splash pads, Huron County also has a few wading pools for families with younger swimmers to enjoy. The Blyth Lions Park Wading Pool (308 Gypsy Lane) opened July 1 and runs 1-4 p.m. and 7-8 p.m. Monday through Friday throughout the season. The site includes a playground and pavillion, offering a chance for the whole family to make use of the site. The Seaforth Lions Pool (42971 Huron Road) offers a full-size pool, as well as a wading pool, a staple of the park since 1962. The site is open Monday to Friday 9 a.m. to 8 pm. and Saturday and Sunday 1-8 p.m.