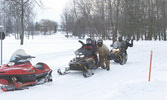 Snowmobiling in Huron
Huron County has a long history of snowmobiling and, thanks to groups like the Brussels and Walton Trailblazers Snowmobile Club and the North Huron Trail Groomers Inc., there are miles of groomed trails that link up to the larger network of trails monitored by the Ontario Federation of Snowmobile Clubs (OFSC).
Travelling long distances in winter has been made even more fun with advances in technology. Now that everyone has a portable GPS system in their pockets, apps have been created that will enhance your trip. Websites like www.ofsc.on.ca and their various district sites have downloadable maps that you can load onto your phone. The OFSC is divided into districts that oversee the operations of the volunteer clubs who maintain the trails.
Huron is part of District 9, which has put together a number of "Snow Tours" with suggested routes and stops for a fun day's outing. The Huron Gateway tour travels over 177 kilometres through the county, exploring open fields and forest tracks, with suggestions for interesting stops for food, fuel and lodging.
The map is available on the District 9 website www.ofscdistrict9.ca/trail-guide.
Permits for the 2021-2022 season are still available online at a cost of $225, plus a processing fee. (Each year early bird discounts are available before Dec. 1.) Special "classic" permit prices are set for owners of antique snowmobiles at a rate of $155, plus a processing fee. Multi-day permits are also available if you are only able to get out for a weekend.
The permits are just like licence plates on cars and are the property of the Ministry of Transportation, however the money from the sale of permits goes to the Ontario Federation of Snowmobile Clubs (OFSC), not the ministry.
The OFSC and member clubs take the funds from the sale of permits and use them for maintaining the more-than 40,000 kilometres of trails in Ontario.
All permit holders also receive a copy of the OFSC Trail Guide, which includes lists and maps of all the trails in the province.
Permits are also available for youth drivers from ages 12 to 16, though, due to the fact that those drivers can't have normal driving licences, they need a special permit.
Classes are available throughout the winter to help teach the skills and etiquette necessary on the trail.
In addition to safety, trail etiquette is an important element to your ride. Snowmobiling is a community activity and, in addition to the hard-working volunteers who keep the trails in great condition, there are also innumerable relationships with landowners who generously allow the trails to cross their land. In order to keep these trails available, a few common sense items should be reviewed with all the drivers in your group before you head out.
ALWAYS
Stay on the marked trails.

Keep to the right side of the trail.

Operate in a safe and courteous manner.

Give trail groomers the right of way.

Reduce your speed when there is oncoming traffic.

Give uphill riders right of way when you are traveling downhill.

Slow down and give the right of way to any skiers, hikers, persons on snowshoes or dogsleds you might encounter.

Always report illegal operation out on the trails.

Slow down when passing a parked snowmobile on the trail.
NEVER
Ignore the posted speed limits for an area, as well as all other trail signs.

Pull over on a turn or curve. If you need to stop along a trail, pull over to the right side of the trail and only do so on straight stretches.

Leave your engine running if you need to stop for any length.

Ride on private property without explicit permission.
Staying on the trails cannot be stressed enough. Venturing off the trail is not only dangerous for the snowmobiler, it is extremely tough on the land under it. You may be riding over just enough snow to disguise a crop of winter wheat or a newly sodded yard. In addition, soft banks of snow may hide rocks, fences or barbed wire. Please keep to the trail that the snowmobile clubs have negotiated for in good faith with landowners for your enjoyment.