Short-term stays in Huron
Known as Ontario's West Coast, Huron County has long been popular as a daytripping destination to the beach for thousands from all over southwestern Ontario. Generations of families have also invested in summer homes along the coveted coast. But there is an option that lies somewhere between those two extremes.
During a regular summer, there are plenty of attractions and events to keep you busy for however long you could get away. Even during the current summer as we cope with a global pandemic, you can safely trade your current living room view for a fresh panorama.
A stay of a few nights to a few weeks might be just the key to a relaxing break from home. With options ranging from rustic to luxurious, you're sure to find your ideal getaway.
We've investigated a few of these options for you, so here is a sample of each.
Cottage Rentals
With their property sitting idle for much of the summer, many summer home owners offer their piece of paradise for rent when they can't be there.
Many can be found on Airbnb, but if you're looking for a slightly different experience, Jennifer Whaling of CottageStays.ca is able to offer you a hosted stay.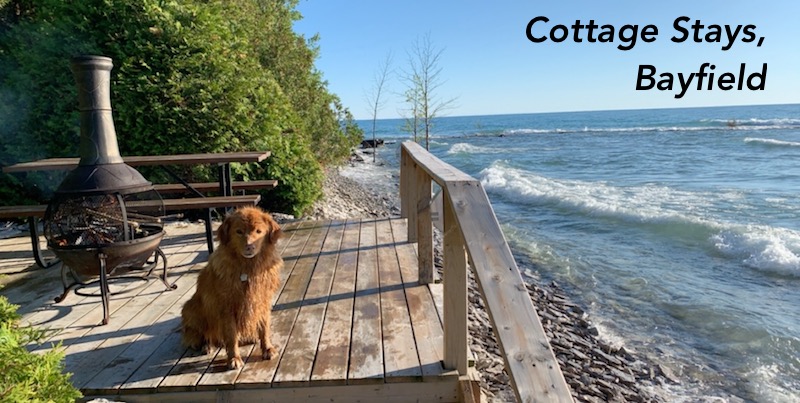 She manages a collection of over 25 cottages, primarily in the Bayfield area with 20 lakefront properties and the rest within walking distance of Lake Huron. Almost all of the properties are also pet-friendly, so you can bring the whole family without leaving your fur-babies at home.
With the current conditions creating so much uncertainty, she has worked hard to create a safe environment for those visiting the area, including increased sanitation and flexible cancellation policies.
Her vision is to help you have the perfect vacation, and she considers herself part cottage host, part travel guide.
Take a look at the properties and Jennifer's service at cottagestays.ca
Personal Concierge Service
To help you have the perfect visit, CottageStays.ca is partnering with My Concierge, a personal services company in Goderich.
With the personal shopping service at your disposal, you can have the cottage fridge filled with your favourite foods and beverages before you arrive, and have replenishments delivered as needed throughout your stay.
Lisa Walker of My Concierge is an entrepreneur who found a way of turning her love of shopping and running errands into a full-time business. Pretty much anything that would distract you from enjoying your Huron vacation, she can look after for you - from shopping and pet-sitting to a full range of butler and professional services.
To find out more about the services that Lisa can provide, find her at myconciergeservices.org
Once you have that lakeview vista, you won't have to leave!
Suites and Hotels
The number of short-term rentals in Huron continues to swell, and many of the new properties to come on the market are creative uses of older spaces.
Blyth Studio Suites is one of those unique properties. It is located in the Howard Block, a lovingly restored 1893 commercial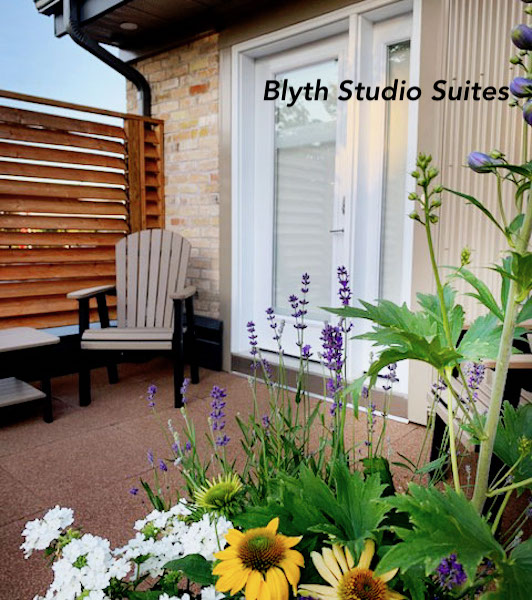 building in downtown Blyth next to the Blyth Festival theatre. There are three modern, airy units with all the amenities that you would seek for a getaway to a charming rural village - fully-equipped kitchenettes, fireplaces, and a large shared terrace with privacy partitions for each unit. All this only steps from theatre, greenspace (including the Goderich-to-Guelph Rail Trail for biking and walking) and the legendary Cowbell Brewery.
You can book online through Airbnb but if you are looking for a more curated experience, owner Annie Sparling suggests that you call her directly. She has a variety of add-on services that she can discuss with you, and her enthusiasm and knowledge will ensure that "you get to know Huron County like the locals know it!" She can provide local food baskets, bike rentals or even private concerts on the terrace with local musicians. Find Blyth Studio Suites on airbnb.ca or call 1-888-281-2746.
Campgrounds
Huron County is home to a wide variety of camping experiences, from seasonal lots for large mobile homes to rustic opportunities for tent camping and everything in between.
Whether you are looking for a quiet weekend retreat with golfing at your doorstep, or a community of fellow campers with access to an indoor pool, you'll find the perfect place to park your RV.
With the phased opening in Ontario, there are some extra considerations when heading out in your RV or with your tent under your arm, so please be sure to understand the rules around physical distancing at the campground you're booking.
Pick-up and Delivery Services
When the province was shuttered earlier this year in response to the COVID-19 virus, many of our local businesses responded quickly, ramping up their curbside pick-up and contactless delivery options, with most retaining that option even as we slowly begin to open up.
Grace Vanden Heuvel had to take it one step further and completely rethink her business model. Award-winning tour operator 519 Tours provides group tours for six to 14 people in its three mini-buses, acting as a chauffeur for groups with their own agenda including airport runs, Niagara and Pelee wine tours and wedding parties. But Grace really shines with her planned tours where she gets to show off all things Huron County.
After everything ground to a halt in March, she came up with "Tours in a Box", an innovative way to bring local producers to her customers since she could no longer bring her customers to them.
As she was licensed by the AGCO to deliver alcohol, she created boxes packed with products from the local craft breweries and wineries, along with coffee, food and artisan crafts.
She is planning on a series of boxes, each with a unique set of items inside. All series will be available to be ordered online, but make sure you order early as quantities are limited. www.519tours.ca