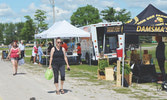 Seaforth Community Market
By Nancy Fisher
Every Thursday afternoon, many in and around the community of Seaforth gather to shop, visit and share the local bounty.
Located in the Seaforth and District Community Centre, there can be up to 40 vendors at the weekly Seaforth Community Market offering a wide range of items, including seasonal fruits and vegetables, baking, local foods and crafts. There can also be community information and occasionally some entertainment, depending on the schedule for the week.
It's that sense of community and the opportunity to meet up with friends and neighbours that has added to the success of this grassroots market. Customers look forward to favourite vendors and they return weekly to stock up.
The market is open from 3-6 p.m. through the winter months and will expand to 7 p.m. after Victoria Day weekend.
Follow along on the market's Facebook page for up-to-date info and announcements about special vendors. At the Seaforth Agriplex, 140 Duke St, Seaforth.