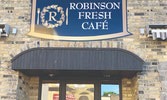 Make Huron Home - Exeter
Robinson Fresh Café owner Rupert Robinson chatted with Mandy Sinclair about his decision to Make Huron Home and open Robinson Fresh Café in downtown Exeter.
What inspired your move from Toronto to the county?
My wife grew up here. She's from Exeter and had come to Toronto, but it wasn't her speed. We eventually moved halfway and lived in Kitchener, but then started looking in the region. We moved to Exeter and built our house here. Then I saw the building [now home of Robinson Fresh Café] was for sale. I was doing some catering on the side and ended up doing catering for the previous owners. Then I decided to take it over and make a go of running a café and also catering.
Tell us a bit about Robinson Café.
We have the café side where we make soup daily from scratch, we roast and smoke all our meats. Our chicken, apple and brie with cranberry mayo is our bestseller. We also do roasted vegetable wraps. We are getting quite the following for our scones and pastries. We do a lot of different stuff. It's not your typical café.
On the retail side, we have a grab-and-go section so you can pick something up, take it home, put it in the microwave and in five minutes or less dinner is ready. We switch up the menu every week.
What's your favourite season at Robinson Fresh Cafe? And why?
I like the summertime because it's easier to get local produce and try different flavours. The buzz is out. People are heading out for ice cream with the kids. The days are longer, so the café stays open later.
What advantages does basing yourself in Huron County have?
The community. Everybody gets behind you and you're just part of the community. You meet everyone. People trust you and know what to expect. You feel like you're part of a big family. When I go to church or the grocery store, it's a good chat. That's the thing about small towns; everyone knows everyone and I find in this instance it's a good thing. Being five minutes from home I can spend more time with my family and my kids. I can pick them up from daycare and do stuff with them or pop home. It gives me that flexibility that I didn't have when I was on the road or travelling all the time.
Favourite Huron County:
Restaurant or bar: I like what James Eddington does and he is always creative and pushing the envelope [at Eddington's of Exeter]. I like the Dark Horse Winery.
Takeaway: William's Fish and Chips [in Exeter] because I like the halibut fish. It's a tiny little place that if you blink you'll miss it.
Hiking trail: We hike on the Morrison Trail quite a bit. It doesn't matter what season you go – in fall the colours are spectacular, the summer it's fresh. Even winter is nice.
Country road: Highway 21 from Grand Bend to Goderich on a nice sunny day, driving along the water and the sun makes the water look like water. I feel like I'm a tourist.