Riverbend Gardens
Located on a bend in the river near the headwaters of a branch of the Maitland, lies a hidden gem of a nursery. Shirley and Allan Koch, owners of Riverbend Gardens, are passionate about hostas and daylilies.
Riverbend Gardens is an amazing hosta and daylily nursery, with an unparalleled assortment of hostas and daylilies in mature, landscaped, award-winning display gardens that is an outstanding day trip, bus trip, or destination for hosta lovers. In fact, there are 1,200 varieties of hostas and 1,200 varieties of daylilies, and that doesn't include hundreds of unregistered varieties that Allan has grown from his own hybridization program.
A conversation around varieties quickly becomes a genetics lesson on nursery stock, cultivars, tissue culture, originator stock and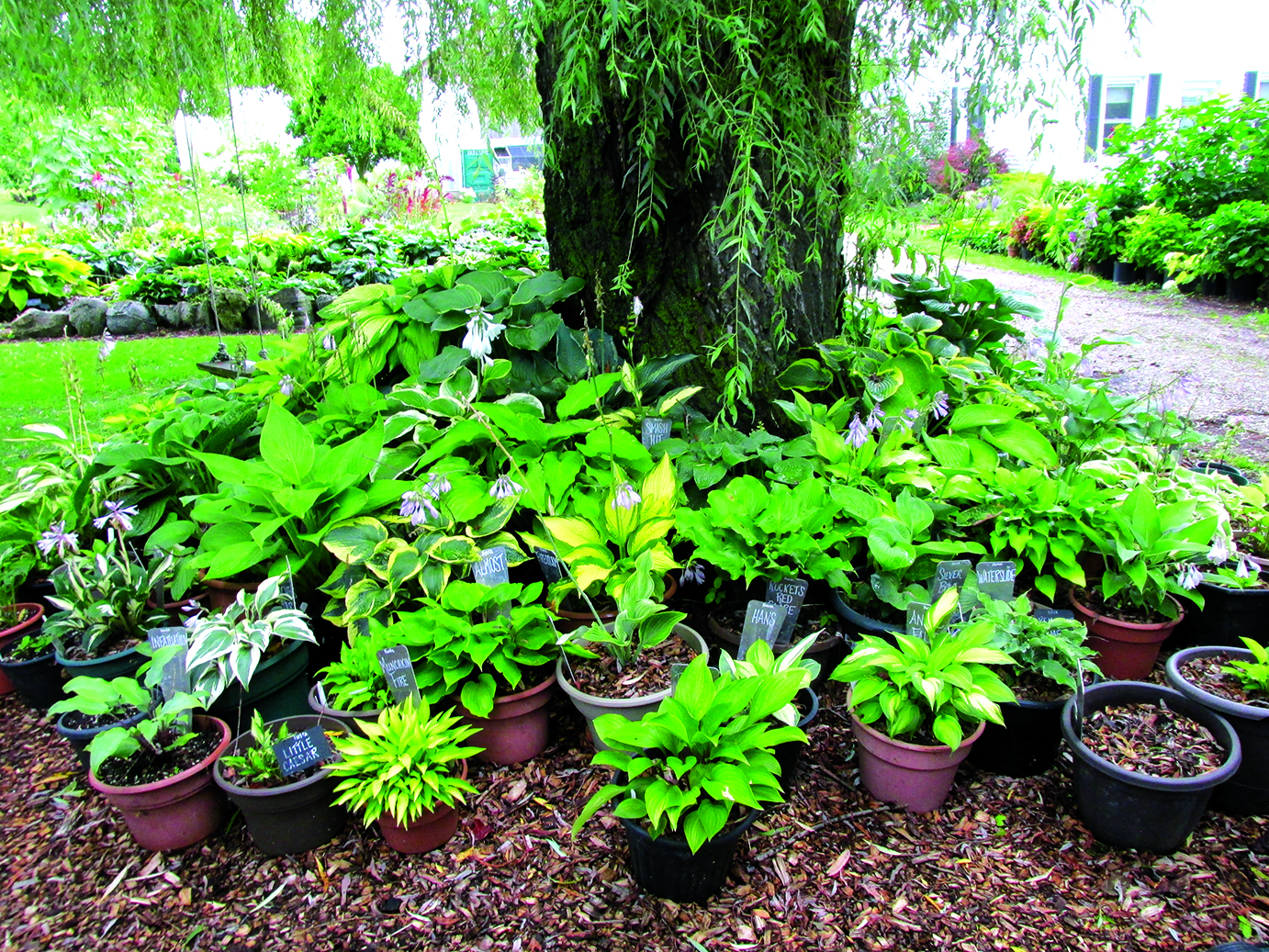 propagation. Even if the science escapes you, you can't help but get caught up in Shirley's enthusiasm. As she ushers you around the property to help you pick out just the right hosta for that corner of your garden, her knowledge of each plant and its unique needs are impressive. All of her plants are like old friends that she greets daily.
Unless you are already a hosta fanatic, you may be unaware of the sheer volume of different varieties that are available. From the adorable three-inch minis to the gigantic ones with 22-inch-long leaves growing on stems up to a record high of 52 inches, there are hostas for every conceivable area of your landscape. Colours, variegation and leaf forms also vary wildly and Shirley is sure to have one to fit your taste and budget. While most of her hostas are common varieties and prices range from $5 to $30, there are the rare collector varieties that can range from $100 to $250 for a single plant. (Who knew how intense hosta collecting could be?)
Riverbend Gardens is definitely worth venturing off the beaten path. It is part of the "Discover Gardens of Huron-Perth" program and the Koch family encourages visitors to the grounds. They will be following COVID-19 protocols, so calling ahead may be the best way to confirm the nursery's hours. 43846 C Line, Gorrie. www.riverbendgardens.net 519-335-6175.