River Road Brewing & Hops
The craft beer scene in Huron County is quickly gaining reputation and breweries around Bayfield and Bluewater are hopping – literally. But it's a new kid in the county that makes cruising down River Road near Bayfield a highlight. The aptly-named River Road Brewing and Hops prides itself on small town pride and producing small batches.
With nine beers to choose from, only 10 hectolitres of each batch is produced as part of the small batch approach. Owners Nikki and Dave Andrews distinguish River Road Brewing and Hops as Bayfield's first farm-based brewery with ingredients grown on the farm where the brewery's located.
Hailing from Bayfield and remaining true to their hometown pride, Nikki and Dave have developed blends that see them
collaborating with other local suppliers and even rolling up their sleeves in the kitchen. The Thanks A Latte Milk Pale Ale includes freshly roasted cold brew from Bayfield's Shopbike Coffee Roasters, located on Bayfield's Main Street.
Nikki bakes the chocolate cake, mashes it up and throws it in the pot to prepare the Have Yer Cake and Drink it Too blend, created to celebrate the brewery's one-year anniversary. And jumping on the pumpkin spice bandwagon, Country Bumpkin, you guessed it, includes pumpkin blended into this dark ale.
So with all that hands-on work, we can forgive them for not sourcing 100 per cent of their ingredients on-site. The pears required for the A Miner's Quench brew are provided by the Bayfield Berry Farm, further up River Road, but the honey for the Bees Do It honey brown ale is produced on site.
But there's more here than just beer. Winding from the road to the brewery, a few red-haired Highland Cows greet visitors stopping by to pick up some brews or settling in for a beer flight at the Tap House. Nikki explains that the cows are more than just a draw.
"They are part of the sustainability process. After brewing we are left with spent grain. They eat the spent grain so there is zero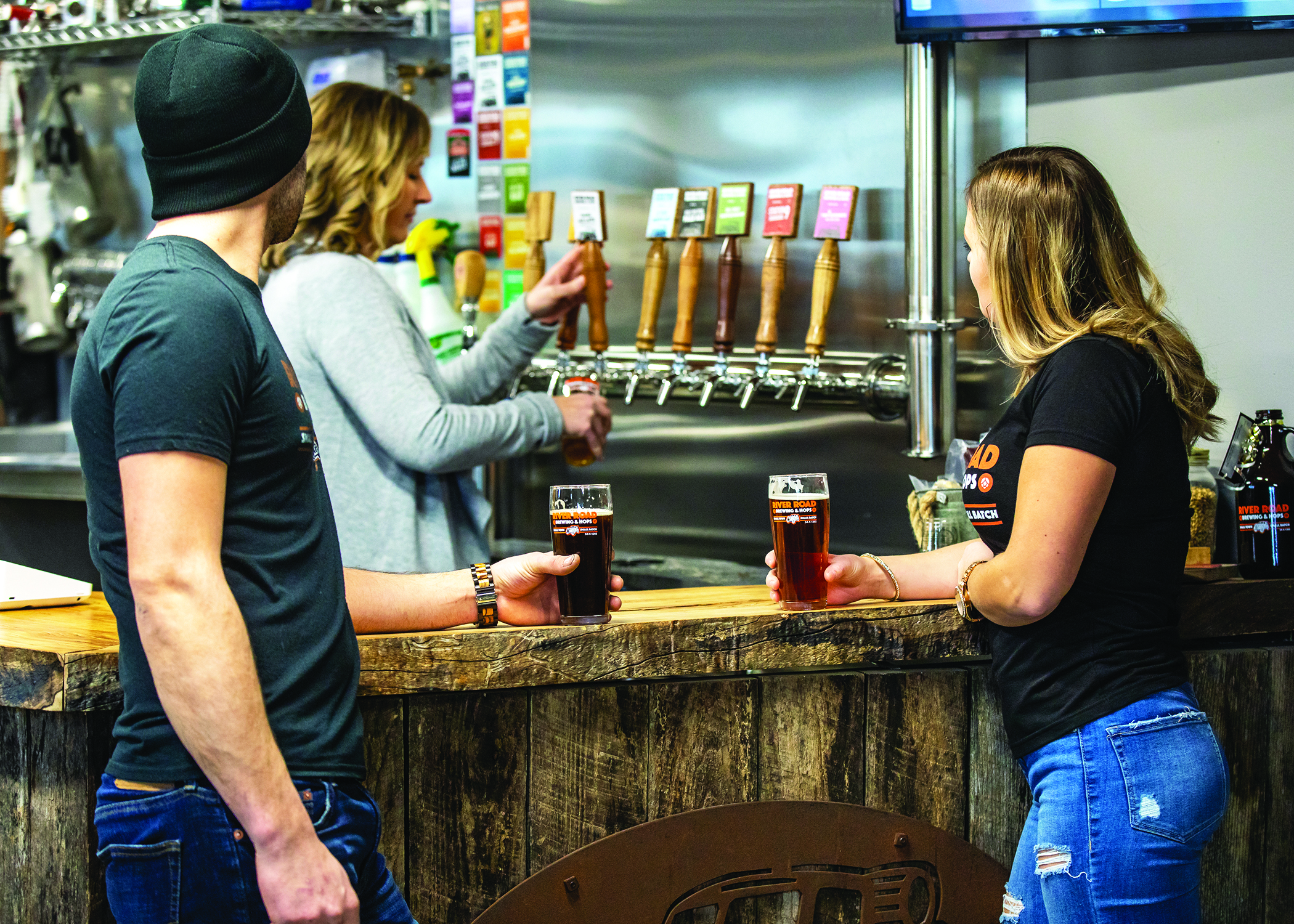 waste and in turn produce manure to spread on our hop yard and field," she said.
It's inside the Tap House that you'll find some cool swag that makes for unique souvenirs from the region. After all, who doesn't need a good quality hoodie on cooler summer evenings while watching a Huron County sunset?
River Road beers are available for purchase on site, but not currently available for purchase in the LCBO. 35449 Bayfield River Rd, Bayfield. riverroadbrewing.com