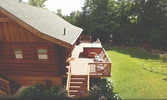 Renewal Retreat
It started with a vision that Therese Bowler had during a women's-led meditation group: a vision of an octagonal-shaped temple with a purpose of welcoming yoga and meditation groups.
That vision eventually led Therese Bowler and her husband Jim Cooke to create Renewal Retreat near Belgrave, on the banks of the Maitland River. While not octagonal, Metta, which Bowler explains means loving and kindness, is the on-site studio for yoga, dance and meditation. The cathedral-style windows allow not only the light to flood the studio, but north-facing views of the great outdoors.
And the vision grew from there. Since opening in 2019, three additional sleeping cabins have been built in addition to the main log retreat space, providing sleeping capacity for up to 30 people.
But there's more than just yoga and meditation happening at Renewal Retreat. Connection is one of them. And not of the digital, WiFi kind. In fact, the retreat space is intentionally a WiFi-free zone (but groups do have the option of adding a hub if needed), allowing guests to connect with each other and nature instead. So, like-minded souls are connecting through workshops, retreats, life coaching at Renewal Retreat, whether for the day or overnight.
Families are connecting at Renewal Retreat, as they are able to gather once again, during exclusive cottage rentals. The Earth Whisperer cabin can accommodate up to four guests while the little Deer Lookout cabin has a queen and a double bed for guests.
Connection through weddings, a service Bowler says she hadn't advertised, is also gaining in popularity. On wedding days, Metta Studio converts to a wedding chapel, having hosted at least six celebrations of love with more in the plans. And it's also the reason for the little Love Nest, a space created for people wanting to get married on site, so they can have their own private space to retreat to following the celebrations, explains Bowler. This off-the grid 'nest' overlooking the Maitland River "is simple, but beautiful," Bowler adds.
With a list of professionals offering wellness services ranging from reflexology, life coaching, reiki, energy balancing, massage and aesthetics, spa weekends are also popular for a bit of pampering in a wooded location.
Wednesday evenings in the autumn, yogis are invited to a pay-what-you-can yoga session in the Metta Studio with all money going to the Women's Shelter. 85185 Marnoch Line, Belgrave. www.renewalretreat.com