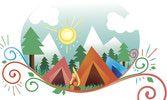 Point Farms Provincial Park
Point Farms Provincial Park offers a little something for everyone just a short drive north of Goderich.
Once a popular Victorian resort, the site sits on a bluff overlooking Lake Huron and offers family-friendly activities like swimming, hiking, playgrounds and playing fields. Visitors can bike, take in the local wildlife, including some great birding opportunities, hike between one-half and four-kilometre trails and swim. After the park has closed for the season, hunting is allowed at the site, and other winter activities are offered as well including cross-country skiing and hiking during Huron's winters.
The site is a full-service camping area, including space for RVs, trailer and tents as well as group campsites available. Sites are split into the Colborne and Huron Campgrounds, the former of which is open from May to October. The Huron Camp is open on long weekends throughout the spring and summer, and from late June to Labour Day, as well as Thanksgiving weekend. Sites are both serviced and unserviced. Later on in the season, special Halloween activities are scheduled. For more information, visit ontarioparks.com