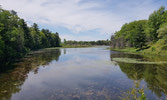 PINERY PROVINCIAL PARK
The Pinery Provincial Park near Grand Bend is one of the province's most stunning provincial parks, situated on the coast of Lake Huron and home to one of the most beautiful sunsets in the world. This is said to have been confirmed by National Geographic magazine as once listing Grand Bend's sunsets as being among the 10 best in the world.
The park was established back in 1957 and stretches over 2,500 hectares. It's open year-round and is home to the extremely rare Oak Savanna and Coastal Dune ecosystems, including tremendous biodiversity with over 800 vascular plants and over 300 bird species.
The park includes 10 walking trails, a 14-kilometre bike trail and 38 kilometres of groomed ski trails.
The Pinery also boasts a provincially-significant wetland called the Old Ausable Channel, which is perfect for canoeing, hydro biking, paddle boating or kayaking.
There are a number of camping options available for the park, including roofed accommodation, car camping and group camping.
For more information on the Pinery Provincial Park, search for it on ontarioparks.com or visit the Friends of Pinery Park's website at pinerypark.on.ca