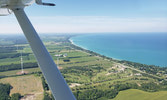 Papple Aviation
Tyler and Summer Papple found themselves smitten by the love of flying after their son decided to take lessons a few years ago. Tyler and Summer were exploring flying themselves in 2015 and it snowballed as they became pilots and then commercial pilots, and now Summer has gained additional experience as a MedEvac pilot in northern Manitoba.
They opened their own aviation business in 2017. Their business offers air taxi service, crop scouting, aerial photography, surveying and parcel pickup and delivery, but their love of flying really shows in their sightseeing tours.
They offer 25-, 45- and 70-minute flights from their farm in Seaforth, Goderich airport on select days or you can customize your experience with them.
"Shoreline tours are the most popular in the summer", says Summer, "a 45-minute flight from the farm in Seaforth will travel to St. Joseph's and up the coast to Goderich and then back to the farm."
While an aerial tour of Goderich is always a highlight, with picturesque views of the Square, harbour and the mouth of the Maitland River, Summer Papple points out that it is the sheer quantity of farmland in Huron County that is most noticed by their customers. "The geometric patterns formed by the roads, fields and woodlots at the back of farms is amazing."
The Papples use a Cessna 172 airplane, which can fit the pilot and three passengers. Summer explained that taking off from the farm, using a grass runway that runs between two fields of soybeans, is a thrill few people have experienced before.
They fly year-round, but the sightseeing tours are most popular from late March to October, with the fall colours tours being particularly busy. Gift certificates are available and make a unique Christmas, birthday or "just because" gift.
Visit pappleaviation.ca for schedules, sample flights and rates.