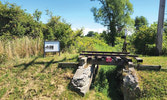 Ontario West Shore Railroad
by Karen Webster
It may only be a storyboard and cement abutment along the side of a gravel road, but that memorial to the Ontario West Shore Railway is all that is left to represent a big dream of what might have been. It is located on the east side of Sheppardton Line, a small offshoot from Highway 21 about five miles north of Goderich.
Beginning in 1902, several companies, in succession, proposed that rail lines be created around Goderich that would give local producers access to markets through the railways already in place.
By 1908, guaranteed bonds and funds were lined up to construct a first line between Goderich and Kincardine. The president of the company was a man called J.W. Moyes. The Huron Construction Company, which was also owned by Moyes, was awarded the contract to build the line with local men providing much of the labour. First a rail bed was built, starting at Goderich and ended at Bethel in Huron Township, and then the ties and rails were laid. The farthest north the rails were laid was Kingsbridge. Several loads of grain were taken to Goderich and some coal was brought north but passenger service never occurred.
After construction ended for the winter of 1911, the Goderich office for the rail company closed. By January of 1913, an investigation, by the Ontario Railway and Municipal Board, was launched and it was discovered that Moyes had organized the railway on fraudulent grounds, that he was involved with the construction company and that he had disappeared with assets of the company.
The cost to continue the project was too prohibitive for the municipalities involved (Ashfield West Division, Huron Township, Kincardine and Goderich) to bear so the assets of the company were sold. All the bonds guaranteed by the municipalities had to be honoured and taxpayers footed that bill until the 1940s.
For many years, the rail bed was quite visible along the eastern side of Highway 21. In May of 2016, the Huron County Historical Society unveiled a plaque on the abutment where the rail line crossed a drainage ditch.
First there was hope of an economic mode of travel for the area, then a trail of "shifty evasion, infamous fabrication and deceit" and now there is only a quiet cement artifact with a replica of the original track along a busy highway to bear witness to the past. Sheppardton Line, north of Goderich