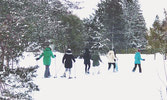 Oakwood Resort
While Grand Bend is famous for its beautiful beach, Lake Huron sunsets and "the strip" in summer, winter may be an undiscovered season for many.
Oakwood Resort is working hard to change that. Natalie Core, marketing manager, says that all they need is Mother Nature's co-operation to transform the entire resort into a winter wonderland.
Oakwood has the rink boards just waiting to create an outdoor skating rink, ideally situated where it is surrounded by trees and lit by strands of lights. It is close to the parking lot, so you don't have far to go and, after your skate, it is a short walk up to the resort's pub for some hot chocolate.
In winter, the greenskeepers turn their attention to grooming cross-country ski trails instead of putting greens. There is also plenty of room to roam the grounds on snowshoes, which are available to rent right on site at the front desk. There are not too many places that you can book in for a golf weekend in mid-winter in Ontario, but Oakwood's greenkeepers have found a way to offer snow golf. Rings are placed on the greens and you can rent equipment to try your hand at chipping the coloured balls into the rings.
All of the winter activities are available for free and everyone is encouraged to stop in and enjoy the property, they just ask that you check in with the front desk so that they know who is on the property enjoying all the great amenities.
The resort is located right on the Ontario Federation of Snowmobile Club's trail system and offers a snowmobile package when the trails are officially open.
As with everything else, the pandemic has changed operations at the resort. The restaurant and pub have reduced hours, but are open Thursday through Sunday with breakfast being offered on the weekends. The spa is still running, but some services are on hold. It is best to call ahead and to discuss your expectations with staff when booking your stay.
Oakwood is close to many other attractions that are open year-round, including excellent nearby restaurants, the Pinery Provincial Park and its excellent winter trails and a number of breweries and wineries. Grand Bend has just become your new winter playground. 1-800-387-2324. 70671 Bluewater Highway, Grand Bend. www.oakwoodresort.ca