FOOD AND DRINK
Ontario's newest culinary destination
Huron County is now home to a burgeoning beer, wine and cider movement and has become a must-stop for Ontario culinary enthusiasts, but just five years ago that wasn't the case.
It all started with a study on viticulture in Huron County in 2011, authored by Richard Fitoussi, a consultant from the Niagara region. Fitoussi had found the potential for vine growth in a specific corridor of Huron County, called the Huron Ridge, just eight to 10 kilometres inland from Lake Huron, stretching from Port Albert in the north to Grand Bend in the south. However, in the years since the report was produced, beer, wine and cider producers have popped up throughout Huron County, placing the community at the forefront of Ontario's food and drink revolution.
BEER
Cowbell Opening Day - August 2017
A conversation about the Huron County beer scene can't take place without first discussing Blyth Cowbell Brewing Company. While the company may not have been the first with its stakes in the ground, it has certainly emerged as the local brewery with the most expansive reach. The beer is now available in LCBO stores and the Cowbell team has developed a destination experience in Blyth that has brought hundreds of thousands to the village since it opened in 2017. While the
destination brewery opened in the summer of 2017, Cowbell beer was in the hands of consumers months earlier, beginning with its flagship beer, Absent Landlord, the first of six beers in the Founders' Series. The company would go on to add another two mainstay beers, the popular Shindig and the new Gravel Run, as well as a monthly cycle of experimental beers in its Renegade Series, some of which are available on tap or in growlers and cans at the brewery. The location features a large restaurant, a lively bar and numerous enclaves, including Mil's Verandah and the Threshers' Hall, which has been home to numerous weddings over the last two years. It also offers guided tours featuring one of Cowbell's storytellers and a shop fully stocked with beer, clothing and any other merchandise you can imagine. For more information, visit its website at cowbellbrewing.com.
The first Huron County brewery with a physical location to welcome patrons through its doors was Stone House Brewing Company in Varna. The company's first offering was a Czech Pilsner, followed soon by a German dark lager and now a light cream beer, all under the watchful eye of owner Mike Corrie, who has been in the beer industry for over a quarter-century. Stone House beer can be purchased at the brewery or at over a dozen restaurants and bars throughout Huron County. The company also offers a robust collection of souvenirs and the brewery is bachelor and bachelorette party-friendly, offering private and group tours and a licenced patio. For more information, visit its website at stonehousebrewing.ca.
One of Huron County's more popular craft breweries has proven to be Square Brew in Goderich, which offers refreshing and experimental beers to the masses in Huron County's biggest town. Square Brew offers three full-time beers, a classic German Pilsner, a dark Vienna-style lager and a hoppy lager, as well as a rotating seasonal offering of a handful of beers. The Parsons Court location, which is not near Goderich's famed Square, despite the brewery's name, has been a beacon for those seeking a good time in Goderich. The brewery doesn't serve food, but welcomes those looking for a beer to bring their own food, whether it be on lunch from work or during any one of its numerous themed nights, such as trivia. For more information, visit its website at squarebrewco.com.
One of the early adopters of Huron County's beer culture and creativity was Half Hours on Earth in Seaforth, a unique brewery that specializes in sour beers. After opening their Seaforth location, Half Hours on Earth would often sell out of their small batches of beer in just a weekend, sending them back to work for the next weekend's offering. They then looked to the power of the internet and became Ontario's first online beer shop, offering free shipping on orders over $150. Not only is Half Hours on Earth well known for its creativity in its cans and bottles, but the names of its beers have also been known to raise an eyebrow. Offerings are always changing and improving and have come with names like Who Speaks For Earth, Bees!, Control Bored, Funk Land and Yalla Yalla. For more information, visit its website at halfhoursonearth.com.
Bayfield Brewing Company is one of two breweries that have recently opened in the Bayfield area. It is set up in the Bayfield Public House, which is on the village's main street, offering mouth-watering food options along with the company's beer. It is one of the county's newest breweries, just opening this spring. The company offers three beers. First is Cabinet Maker, a Canadian pale ale, followed by Woollen Shop, a brown ale, and Navigating Lieutenant, a light lager. The Public House has also begun hosting special evenings full of food, beer and entertainment. On May 15, they began these offerings with a special night with psychic medium Kelly Elson. For more information, visit its website at bayfieldbrewingco.com.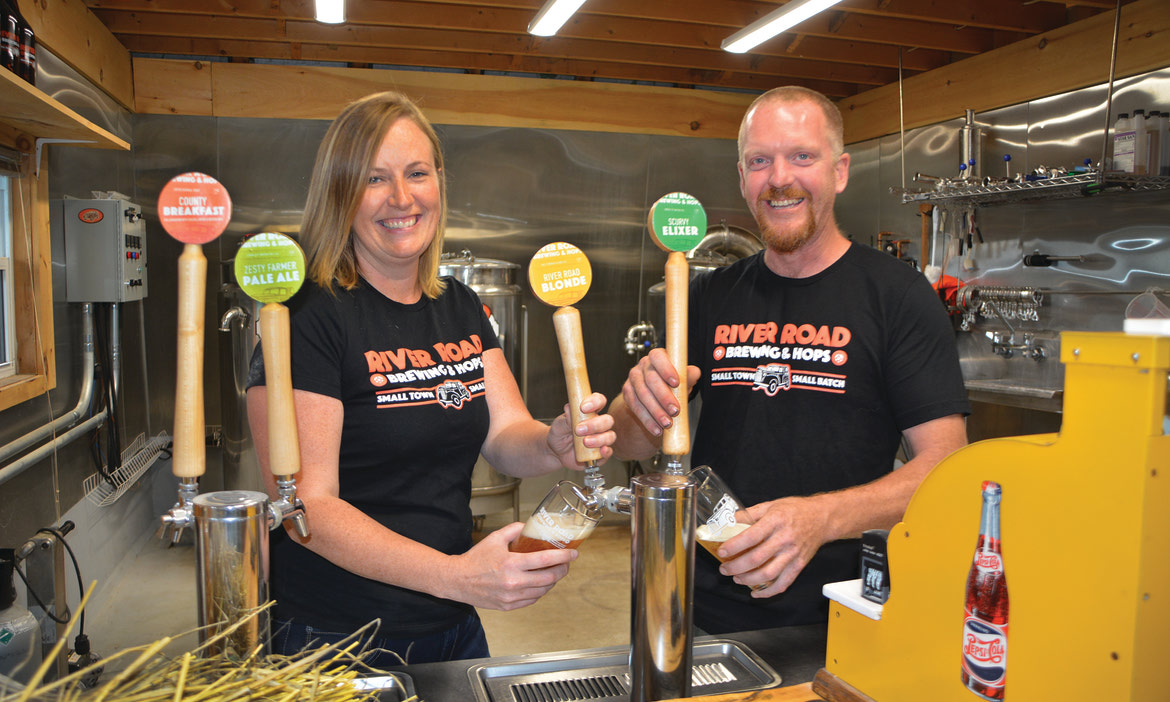 River Road Brewing & Hops, photo courtesy of The Rural Voice
Bayfield's second brewery is River Road Brewing and Hops, so named for its Bayfield River Road location and its farm-based operation as one of Huron County's only breweries to grow its own hops. Right now, River Road has four staple offerings. There is Up Your Kilt, a Scottish Wee Heavy; Blind Descent, an oatmeal stout; Country Blonde, a mild blonde ale and County Breakfast, a variation of the oatmeal stout brewed with locally roasted coffee. Its one seasonal offering right now is The Scurvy Elixer, a spruce tip-infused IPA. For more information, visit its website at riverroadbrewing.com.
Huron County's final brewery is Bad Apple Brewing Company near Zurich. Bad Apple currently has six offerings, many of which are in short supply due to demand of the previous season. It also offers a full gift shop, featuring t-shirts and hoodies and glassware. Beers such as Hessenland Helles, Bannockburn, I Didn't Inhale and Trigger Toe have been keeping beer lovers coming back since the brewery first opened. For more information, visit its website at badapplebrewingco.com.
CIDER
Huron County has one dedicated cidery and that is East Street Cider Company in Goderich, situated, appropriately, on East Street. The cider has quickly become a favourite of local cider enthusiasts and drinkers in search of a crisp, refreshing option on a hot summer day on Lake Huron. East Street Cider offers its flagship cider, called the Landmark Dry, at numerous restaurants throughout Goderich and greater Huron County. Another constant offering will be the Huron Half Dry, though it is still in the works. They currently offer three seasonal ciders as well, including Harvest Botanical, Watermelon Mint, Beach Dog and Winter's Bounty. For more information, visit their website at eaststreetcider.com. And while East Street Cider is Huron's only exclusive cidery, they are not the only company making cider for thirsty Huron County residents.
WINE
Dating back to Fitoussi's original report, investors knew rather early on that due to numerous factors, Huron was becoming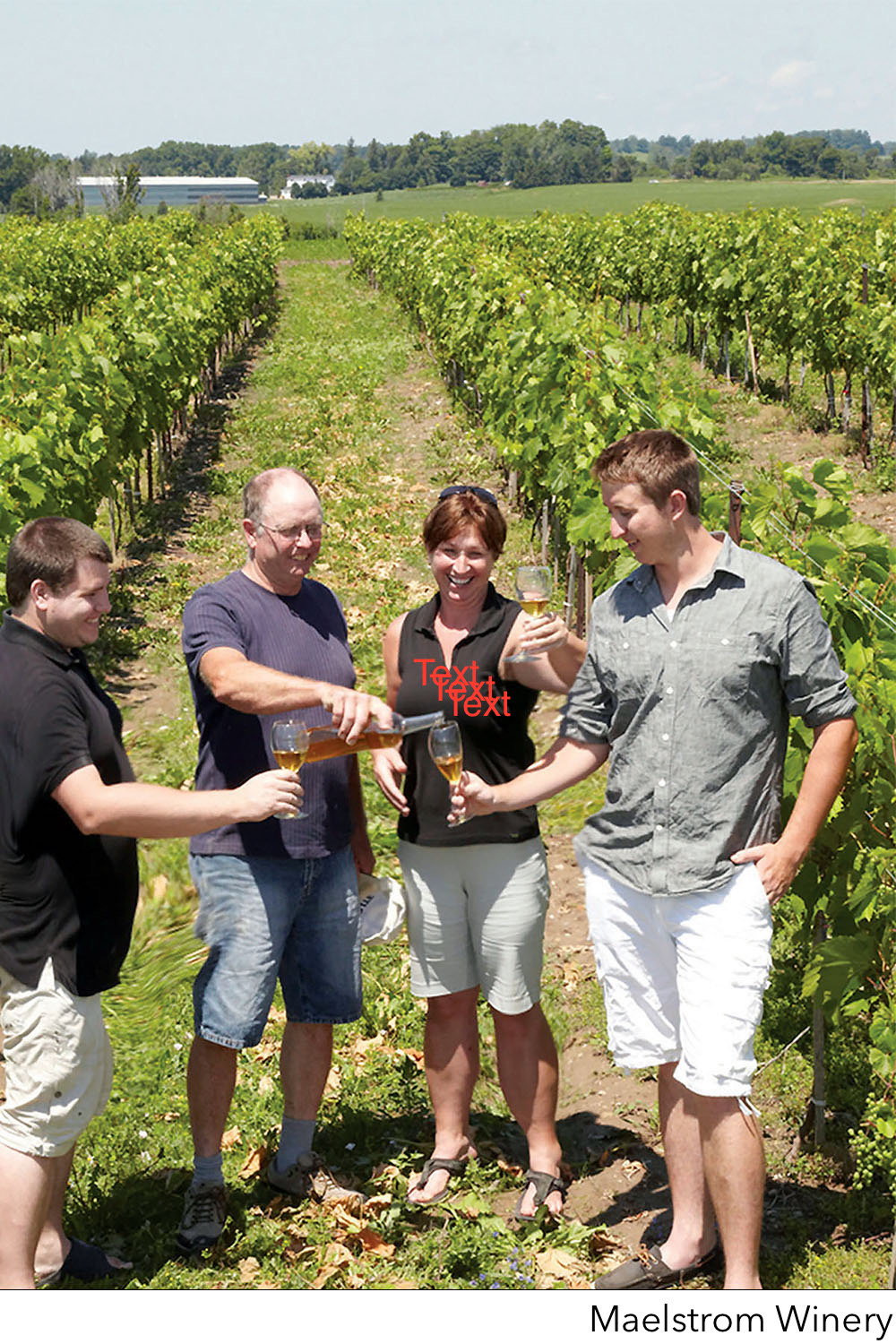 ripe as a viticulture location and destination. The first family to jump on Huron's wine potential was the Landsboroughs and Maelstrom Winery in Huron East. Maelstrom has wine dating back to 2015 grapes and a number of varieties to keep residents and visitors alike guessing, but always coming back. The wines are: 2015 Frontenac Blanc Reserve, 2016 Blush, 2016 Chardonnay Reserve, 2016 Frontenac Blanc, 2016 Marquette, 2017 Abyss, 2017 Chardonnay, 2017 L'Acadie and 2017Vidal. They also offer a still cider. The winery is family-owned and operated and offers tours to those who come by for a visit and a
wine club for those enthusiastic about the winery's products. The winery is also home to a lovely new event venue and a licensed patio for musical performances. For more information on Huron County's first winery, visit its website at maelstromwinery.ca.
The winery to make the biggest splash in Huron County is Dark Horse Estate Winery near Grand Bend, with its grand winery building, bar and wedding venue. Dark Horse is widely available in many Huron County restaurants and beyond, crafting the county's largest offering of wine to date. Its Unapologetically series features five wines, including two reds, two whites and a rosé. The One Horse Town series features eight wines and its Valegro series offers six wines, including a sparkling wine and several icewines. In addition to providing Huron County with much of its wine, Dark Horse has also branched out into hosting a number of events at the winery, in addition to its growing wedding business. For more information, visit it at darkhorseestatewinery.com.


One of th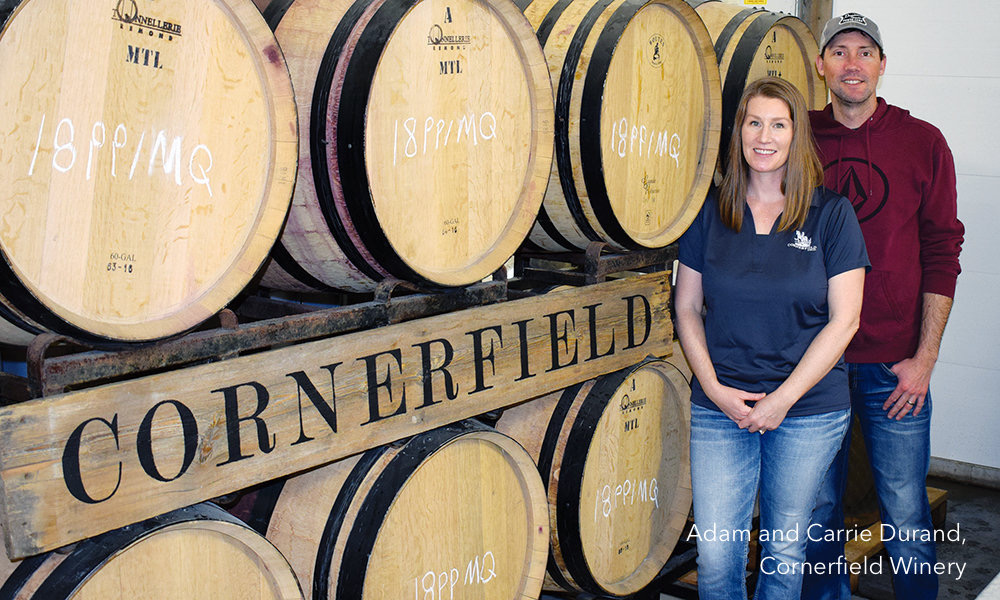 e newer kids on the block is the Durand family and its Cornerfield Wine Company, which was due to open its doors and offer its first wine this May. Set up on the home farm of Carrie and Adam Durand just south of Bayfield, Cornerfield offersvarieties of wine: three whites, two reds and a dark blush, which they call a pale red. The Durands took note of Fitoussi's report all those years ago and decided to get involved with the wine business, hiring Niagara-based winemaker Steve Byfield ahead of its first bottling this spring. Cornerfield also plans on offering a by-the-glass experience and tours at the winery as business picks up in the summer thanks to their Hwy. 21 location. For more information, visit its website at cornerfieldwineco.com.
Another newcomer to Huron's wine scene is Schatz Winery, which is connected to a county institution that isn't new at all: Hessenland Inn, which dates back to the 1980s. The popular restaurant and wedding venue is one of the latest to dive into the local viticulture with a number of promising wines on the way that are sure to impress the discerning wine lover. For more information, visit its website at hessenland.com.
The final winery that has thrown its hat into the Huron County ring is 2nd Streetlight Estate Winery, which is located on Hwy. 8 between Clinton and Seaforth. The company's wine isn't available yet, but they plan to be open soon and offering their best to the wine drinkers of Huron County. For more information, visit its website at 2ndstreetlightwines.ca.