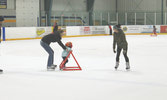 North Huron Wescast Community Complex
The North Huron Wescast Community Complex is home to an arena, an aquatic centre and fitness centre. The large, bright facilities are open to the public year round and offer public swim and skate times, as well as organized programs for residents.
The complex boasts an NHL-sized ice surface (200' by 85'), spectator seating for 700 with heaters, as well as six dressing rooms and a referee room, an LED score clock and a sound system. Public skating is offered on Sundays from 12:30 to 2:30 p.m. Parent and tot skates and senior pick-up shinny hockey also have time slots posted on the website.
The fitness centre boasts "Small town gym, big city punch!" It has 5,000 square feet of workout floor, group fitness space, boxing area and multi-use courts (basketball, squash and wallyball with equipment). The highly trained and motivated staff also offer group classes, individual workouts, personal training and nutritional support, fitness testing and sports instruction. A day pass gives you access to all of the amenities.
The aquatic centre is a fully accessible facility that was renovated in 2017. The busy indoor pool has a full range of recreational swim times for all ages from tots to seniors.
Both the arena and pool are also available for private rentals.
For complete schedules and information on pay-to-play day passes and memberships, visit the website www.northhuron.ca 99 Kerr Drive, Wingham