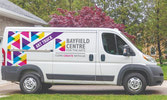 Bayfield Centre for the Arts - Mobile Art Truck
As the summer passes, you may just see a new sight around Huron County: a truck filled with art supplies and instructors ready to bring the experience of visual arts to many communities. The Bayfield Centre for the Arts (BCFA) is finalizing plans for its latest project: a rolling art studio.
While the pandemic has slowed down some of the original plans, the Mobile Art Truck is one that can be easily adapted to work within restrictions. The activities will be held outdoors and physical distancing can be managed. Though based in the town of Bayfield, the BCFA hopes to reach all communities in Huron County. Organizers are excited to promote the positive mental health benefits of participating in visual art activities, especially after over a year of lockdowns and social isolation.
Jamie McDougall of Lake Huron Chrysler has stepped up to help supply the truck and plans are underway to retrofit the interior to hold all the tables, chairs, easels, tents and, of course, art supplies necessary to set up a workshop wherever it is parked.
The intent is to have the truck at festivals, fairs and markets. However, until those events begin again, they hope to visit retirement homes, or even family events (depending on COVID-19 crowd size restrictions). All different types of visual arts will be offered: sketching, painting, photography, fibre and paper arts and sculpture, depending on what the community responds to and which instructors are available.
The truck will be available for a minimum of three hours and classes will take approximately 90 minutes. Costs will depend on sponsorships or will be affordably priced, based on a fee-for-service model. Booking can be found through the BCFA website or at bookme@bayfieldarts.ca
As things open up, there are also plans for monthly masterclasses to be held in Bayfield at The Barn on Main Street. These will be exciting, hands-on classes. The best way to find out more is to check out the website and sign up for the newsletter at www.bayfieldarts.ca