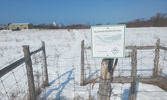 Millennium Trail
For a great, close-up view of the Maitland River, you can't beat the Millenium Trail in Goderich.
This is a more challenging three-kilometre hike with some steep sections and rough passages, but the payoff is the amazing vistas of the river that you don't see from other points. There are some boardwalk sections and, as you are along the edge of a river, tree roots can be an exposed hazard, so best to stay right on the marked trail and be aware. It is not a loop trail so you will be going back the same way, but that is a great opportunity to get a second chance at the photos you missed on the way in. There is much to see with some truly breathtaking vantage points, as well as a lovely wooded section and the more open floodplain area.
Of course the best entertainment is from the birds, animals and fish you might see along the river's edge. Dogs are welcome on a leash and the beauty of this trail is that it is completely within the town of Goderich.
You can access it at the end of Nelson Street or from Mill Road, where there is parking. The most challenging portion is from Nelson Road towards Highway 21 where you get a good view of some rapids.