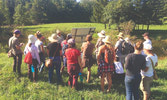 Meeting Place Organic Farm Annual Open House
"Due to Avian Flu in the surrounding community, the in-person aspect of the open house is postponed. You can still order seedlings online for pickup or delivery, or find us at Costal Coffee, Saturday, May 7th. Please check the website for further details: http://www.meetingplaceorganicfarm.ca/openhouse "
The McQuail family has been hosting an annual open house and seedling sale on their farm, Meeting Place Organic Farm just outside of Lucknow, since the early 1990s. Fran and Tony McQuail bought the farm in 1973 and immediately began remediating the land and, by the late 1970s, were one of the first organic farms in the area. In fact, some of their products have been certified organic for close to 40 years. Eventually, Fran was growing more seedlings each spring than they could use in their market garden and began selling the seedlings. An open house grew out of the seedling sale and it was a chance to share what they were doing with customers and even other farmers who weren't familiar with this style of farming.
Now their daughter Katrina has taken over the farm as part of the succession plan so Tony and Fran can ease into retirement, and she is continuing the open house tradition on May 14-15. Since they don't have a farmgate store or a regular public component to the site, it takes a lot of work to prepare a working farm for a busy weekend of visitors who might not be used to being on a farm. They spend about a week cleaning, storing equipment and closing off some areas so it is easy and safe for people to come and look around.
There will be signs directing visitors from the highway to the farm and once on site, team members, consisting of friends and family, will greet you with a map and information about the open house and the farm, and direct you to the parking area.
A grazing plan is set up in advance so that the public can see the animals and Tony will give you a tour on a horse-drawn wagon ride. The whole farm becomes interactive with a kids' area and opportunities to engage with the animals. The greenhouse will display the organic seedlings and they will be serving their own homemade sausage-on-a-bun.
Katrina and her partner Ben and their children are excited to share a positive image of farming where they honour the animals and the land that sustains them. You can follow them on social media to see more about the farm at Meeting Place Organic Farm on Facebook and Instagram, or visit the website to shop year round https://www.meetingplaceorganicfarm.ca/ 86016 Creek Line, Lucknow