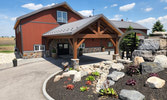 Maple Lane Haven - an Elegant Rural Event Venue
By Deb Sholdice
Huron County is quickly becoming a wedding destination due to its rural charm, picturesque settings and a growing selection of venues from the traditional churches and community halls to golf courses to buildings converted for events. Some of the loveliest conversions are barns, and one of the prettiest is Maple Lane Haven set in the rolling fields of Huron East.
Miriam Terpstra is co-owner of Maple Lane Haven Event and Wedding Venue, which is the brain-child of her husband Joe. The event barn, located in Huron East, opened just as the pandemic hit, and despite that hit to their marketing plan, word-of-mouth has resulted in more bookings. Starting seven years ago, they had two vintage bank barns moved to their property and rebuilt as an elegant event venue. At first it was a passion project for friends and family, but as the project ballooned to include landscaping, waterfalls and a picturesque pond, the Terpstras were encouraged to open their "party barn" to rentals, creating a business for their semi-retirement. Now their beautiful property is hosting weddings from all over midwestern Ontario.
She was surprised to see that almost 40 per cent of clients travel from more than 50 kilometres away. While surprised by the interest from urban clients, she enjoys teaching them about agricultural life and discussing things like crop rotation. When booking a wedding, couples will ask about the fields surrounding the barn for photography and Terpstra says they are very engaged in the discussion about what the surrounding fields will be planted with and where the crop will be in its growing season when the event takes place.
Terpstra has also noticed a definite trend toward the elegant touches, and says that most couples are leaning towards the "less is more" philosophy, so that the venue is seen to its best advantage.
Joe Terpstra has created many beautiful elements that connect the entire venue to its agricultural roots. His ingenuity is behind
the repurposing of a silo blower wheel into a beautiful water mill at the covered entrance to the hall and the transformed antique tractor wheels that now form the base of the grand chandeliers that light up the banquet hall.
Miriam leads the team that maintains the grounds and has designed most of the extensive gardens that add colour and atmosphere to the grounds. Planters are rotated to match the seasons and the landscaping is constantly growing and evolving.
This is definitely an event venue that will tick every box on your planning list. The Terpstras have designed this as a full service event hall, with a patio and gazebo for an outdoor ceremony, multiple locations to satisfy even the most discerning photographer, a banquet room with a full-time chef and wait staff and a dance floor with sound system and video screens.
www.maplelanehaven.com 84483 McNaught Line, Brussels