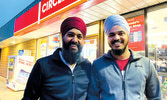 Make Huron Home: Friends from India settle in Wingham
By Mark Nonkes, Huron County Immigration Partnership
At the Tim Horton's table, the 31-year-old men beam. They're newer residents in Wingham, business owners at convenience stores in neighbouring towns.
"This is the table where we made the decision to take over the first store," Gurpreet Singh says. "It was April." Harpreet Singh, his longtime friend, smiles at the memory. "We say we're brothers sometimes. We have done everything together," Gurpreet says. "Brothers from another mother," Harpreet adds with a laugh.
"We met and have been friends since 2008. We went to the same high school, the same college. We came to Canada on the same flight, we studied the same program at Conestoga College, we got our permanent residency on the same day," says Gurpreet, who grew up in a rural part of India's Punjab state.
"Where we came from in India, we are from small towns. My town only has 300 people," Gurpreet highlights. Before moving to Canada, Harpreet worked with his parents. "My parents are farmers," Harpreet explains. "Before I came to Canada, I was helping them in the fields." Gurpreet was a math teacher with a new wife and one-year-old daughter. "I came to Canada for them, I came to give them a better future," Gurpreet says.
The friends arrived in Canada to Kitchener in May 2015. They enrolled as international students in a computing program at Conestoga College."We studied for a year and a half. We struggled to find a job after," Gurpreet says.
"One of my first jobs was working in Palmerston, at a plant that makes car parts for Toyota," says Harpreet. "There was a bus from Kitchener to Palmerston; the agency provided a bus. We were doing afternoons or evenings. During the day, we were going to college. In the afternoon or the night, I would work a shift."
Gurpreet, meanwhile, worked at a gas station. Later, the two men found jobs at Tim Horton's."If we had spare time, we did odd jobs too we found on Kijiji - cleaning, moving, gardening, painting," Harpreet says.
Later, the men found a job together at Circle K in Harrison. There they were reminded that they love small towns. "In small towns, people are always connected, compared to big cities. People in small towns care about each other," Harpreet says.
After living in Harrison, in 2019, the men saw an opportunity, took over Circle K in Lucknow, and bought a house in Wingham. "We bought a house in Wingham because we couldn't find a place to rent," Gurpreet explains.
"I still remember, when we moved here, the neighbour saw us raking the lawn and came over to introduce themselves. They gave us their number in case we needed any help. It showed us that they cared about us," Gurpreet says.
In 2020, Gurpreet took over the Wingham branch of Circle K, while Harpreet continued in Lucknow. The men moved their families to Wingham from India in 2021. Gurpreet's wife and two children arrived, along with Harpreet's wife. "After I got my PR (permanent residency visa) in 2020, in January, I got married in India. I came back here, and then I got the documents to invite my wife. It took a year to get a visa. She came here last year in August," Harpreet says.
"My wife and kids came last year. I saw my son for the first time in 2020. I never got a chance to go back and see him after visiting in 2017. He was three years old. It was kind of painful. He would stay away from me. He is close to me now that everyone is here," Gurpreet says.
The men are determined to build their future in Wingham. "Since we came to this town, it feels like home. The people in this town - Wingham - are really helpful. They're really good," Gupreet says. Gurpreet has joined the group Wingham Community Connectors, a group dedicated to welcoming new residents to the area. "I always think we can grow more in this town. We want to be part of this community and give back to this community," Gurpreet concludes.