Clinton -
Make Huron Home - Farmhouse Style
For our new series, Make Huron Home, Mandy Sinclair chatted with designer Cynthia Weber about her and her husband's decision to make the move to their historic home Bannockburn 1878 in Huron County and the peace of living she experiences in the countryside and why she can't imagine going back.
Why Huron County?
Kent and I began coming to Bayfield for weekend getaways soon after we got married. We explored the region and it resonated with us. Discussions about relocating here peppered our early-married life, and in 2005 we made the move to the county.
Tell us a bit about Bannockburn 1878 and the moment when you knew this had to be "home" for you and your husband Kent.
In 2014 we were looking for our next project. We had sold our home and were considering everything from a new build to a church or barn conversion, but just hadn't found the right fit. We had driven by the house the year before and it just completely spoke to us. On a whim we opened a discussion with the owner and within a few weeks it was ours. Many people have owned this place over the last 140-plus years and we are doing our utmost to marry history with our story and add to the narrative of the property in the best possible way.
Where in Huron County do you go to seek inspiration for your design clients?
The county is filled with inspiring locations, people and perspectives. I absorb by osmosis, as well as by intention when you get to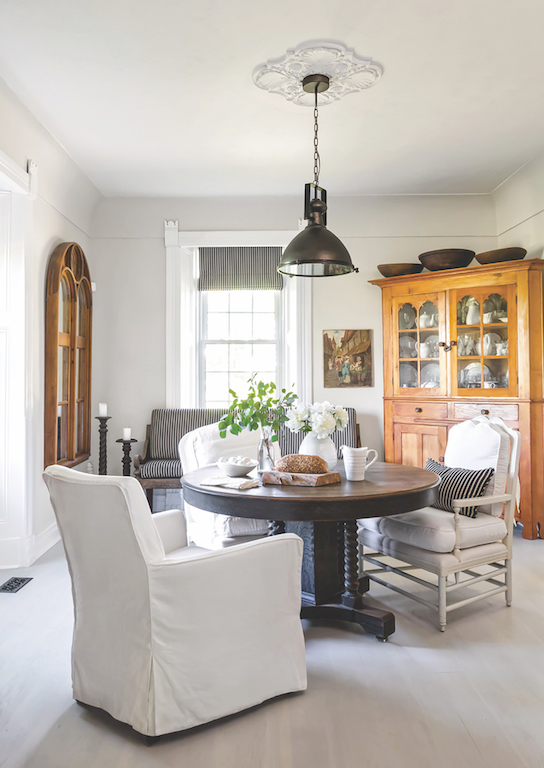 the heart of it. When I'm sitting on our back porch watching the sunset with the changing light filtering through the trees and over the ridge, ideas and inspiration come freely. There is a sense of contentment here, a pride of place and when I am content, creativity visits.
How would you describe your design style?
Collected eclectic. I have always been drawn to the stories behind objects. My philosophy on interior spaces revolves around the elegance of simplicity and living with the things we love. Our homes are not static, they evolve as we change and experience new places and perspectives. I try to incorporate personal treasures into any living space, as they add dimension and connection, two elements necessary for a well-rounded home and life. Bannockburn 1878 is all about lines and curves, white and wood. I kept walls, trim and flooring light, which allowed our dramatic cabinetry, art and collections to speak. This also lets me change decor throughout the seasons or to reflect my mood. Garden bouquets casually gathered on a walk will often prompt a change of art or decor.
Favourite Huron County stops:
Antique or second-hand shop: Dunlop's Livery on Highway 21
Café for whiling away the hours: Part II Bistro in Goderich
Designer or artisan: Elizabeth's Art Gallery
Country road: Bannockburn Line in the autumn and the ring around Benmiller
Find Cynthia online at www.cynthiaweber.com and @Cynthia_Weber_Design on Instagram.