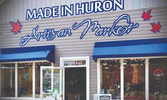 Made in Huron
Made in Huron Artisan Market has become a destination for one-stop souvenir shopping in downtown Clinton with a range of goods highlighting the county's diverse artistic community. Its collection is constantly changing for various reasons and new artisans frequently display their works, meaning you'll want to check back often.
"Our problem at Made in Huron is that we help artisans grow their business and they get so busy they go off [on their own]," says Made in Huron shop owner Sandy Garnet, with a chuckle. "But that allows us to bring in new artisans. Funky Monkey started here and now she ships her fabrics all over the world out of Watford, Ontario."
Started in 1996, Garnet took over the artisan market when she needed a brick-and-mortar location for her sewing and alterations and "operates the space like a co-operative," she says. "All artisans are working at their businesses through the Made in Huron shop and must pay rent in addition to working a day per month."
While the majority of the artisans reside in Huron County, Garnet does make exceptions if the artisans are willing to travel to fulfil their commitments.
Meet the artisan
On a recent visit, Wayne King from the Grand Bend/Dashwood area was taking his turn staffing the shop and was happy to chat about the pens he turns using locally-sourced wood. A mainstay in the shop, his collection has grown to include charcuterie boards, all handmade in Huron County.
This autumn, Beverly Davison-Hurst's succulent arrangements using real and faux plants will be available for purchase, as well as her glass bead sun-catchers. "She also does knitting so she'll be able to add other products as we see a need," adds Garnet.
But it's not just handicrafts on display; the culinary arts and tasty treats from the region are equally represented in a new glass double-door freezer. An impressive and expansive selection of preserves and jams, honeys from various beekeepers in the region and maple goods from the sugar shacks line the shelves at the rear of the shop.
Need a good read? Books by local authors include Bonnie Sitter's Beauty and Bounty of Huron County, Onion Skins and Peach Fuzz, and On the Wright Track. Garnet reveals that Sitter's next book will be about the Sloman School Car (located on Victoria Terrace in Clinton), which she's working on with Margaret Sloman. The comprehensive History of the Seaforth and District All Girls Marching Band by Charles Kalbfleisch is also available for purchase. Many of the books are independently published, and make for great gifts or additions to the coffee table.
The Made in Huron shop will be participating in the Clinton-wide Ladies' Night on Nov. 25.
The shop is located at 26 Isaac Street in Clinton.