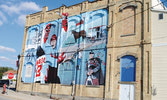 Heroes
Legendary athletic heroes from two centuries are remembered in artistic works in the village of Lucknow.
Probably the most iconic image in Canadian sporting history is recalled in a huge mural on a building on the corner of Campbell Street (main street) and Ross Street (Lucknow Line). Here, the joyous leap of Lucknow native Paul Henderson is pictured after he scored the winning goal in Moscow as Canada salvaged its wounded pride and Team Canada won the first Canada-Russia hockey summit in 1972.
The two-storey mural is located right across the street from the location of the old Lucknow arena, where Henderson learned the game, (since replaced by the current building). Henderson's father, Garnet, was station agent for many years at the Canadian National Railway station, also long gone from the village.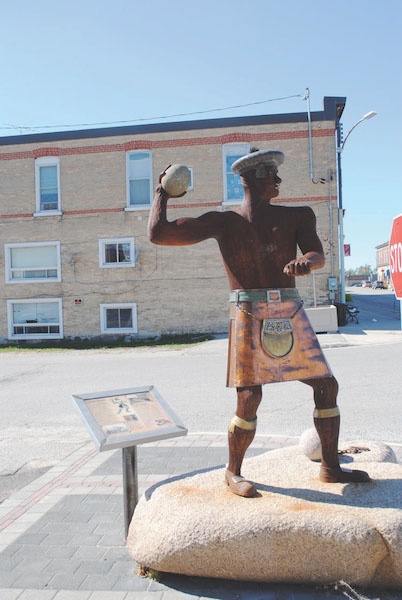 Downtown is a much smaller artistic tribute, a sculpture to a hero from a century earlier. Like many other communities in Bruce and Huron Counties, Lucknow was a proud Scottish town and for many years and, in the late 1800s, it hosted the Caledonian Games, showing off feats of strength of Scottish origin such as shot putting and tossing the caber. Thousands came to the village to watch the competitions.
In 1882, the games attracted the Scottish hero Donald Dinnie, the champion wrestler and heavyweight athlete of the world. Such was his stature and the community's love of all things Scottish that Dinnie has remained part of Lucknow's culture ever since. Several years ago, a sculpture of Dinnie was commissioned by the community. You can see it at the corner of Inglis and Campbell Streets.