Lavender Works Co.
Lavender Works Co. is the culmination of many years of dreaming of having her own flower farm. Julianne Terpstra has lived on her husband's family farm for over 20 years and knew that someday she would run her own business there as well. She was researching flowers as crops when she happened upon lavender and she quickly knew that she was onto something.
Lavender has been cultivated for centuries for its antibacterial and anti-inflammatory properties, and is known for its ability to calm the nervous system and helps reduce pain.The plant itself can be picky about soil, especially about having "dry feet". The
Terpstra farm is located on a gravel knoll, so Julianne's interest was piqued.
Four years ago, they began with a test plot of 300 plants to ensure that not only the drainage and PH levels would work, but to ensure the plant could survive the winter. Not only did the plants survive, they thrived and expanded into a field of 2000 plants.
Julianne delved into the versatility of the plant, experimenting with products that she could make. After the test plot success, she began selling soaps, pillow spray and lavender bundles out of the garage.
The business grew quickly and two years later they needed to expand. They renovated the drive shed into a well-designed retail space that has old world charm.
In addition to the on-farm retail sales, the company is also busy wholesaling products to local retailers in Dublin, Listowel and Millbank.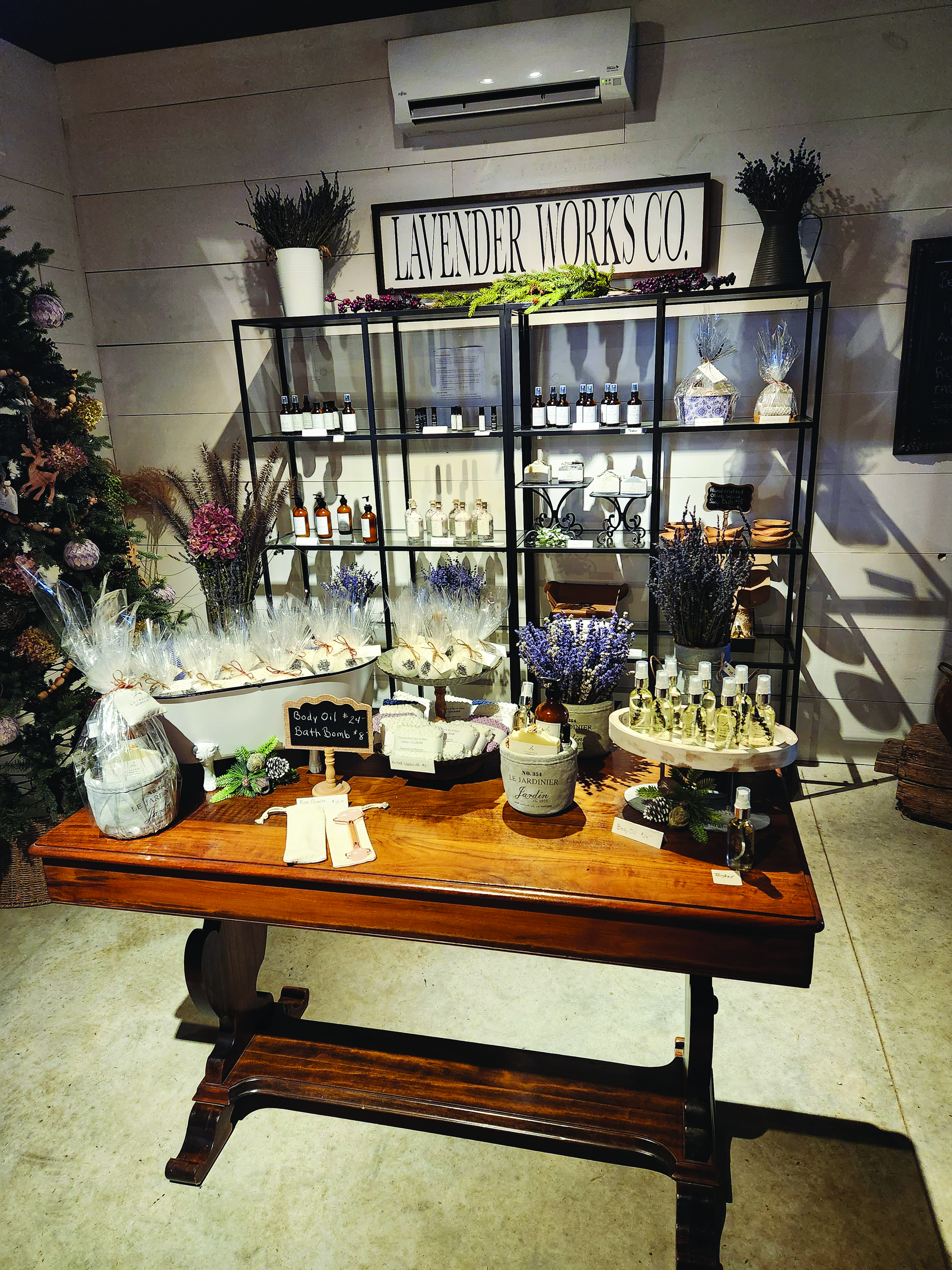 Julianne creates all of her own products so that she can control the quality of the all-natural lines which have expanded over the two years to include eye pillows, body oils and a delightful lavender-infused honey. The honey is a product of a neighbour who keeps bees that visit the lavender plants regularly. Lavender is also infused into the honey to give it its unique flavour. Julianne's latest product is lavender ice cream and she has developed a signature flavour - lavender white chocolate swirl.
The possibilities seem endless for this passion project. This spring will see Lavender Works Co. launch four new products: healing balms, sugar scrubs, candles and beard oil for men.
In addition to her busy retail and wholesale business, the lavender patch itself is proving to be a popular item. With the plants in full bloom for much of the summer (mid-June to the end of July), the fields are open to the public to enjoy the flowers and take pictures. The field has become a popular place for wedding and engagement photos and photographers can rent the field by the hour for private photo shoots.
The field is tucked back from the road, so you don't fully appreciate the beauty of a field of lavender in bloom until you arrive and make your way up the driveway.
Retail hours vary based on the season, so check their website or social media for updated hours. www.lavenderworks.ca 44701 Newry Rd, Brussels, ON