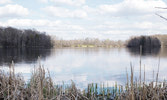 Lake Wawanosh Conservation Area
Nestled on a quiet country lane southeast of St. Helen's, this little gem may be Huron County's best kept secret.
The Lake Wawanosh Conservation Area is known to locals as a quiet place to fish or hike, as motorized boats are prohibited, but it is also a popular spot to canoe or kayak.
The hiking trail ranges from easy to moderate with a few hilly sections. It makes a half circle from the road to the back section of the lake where it has excellent views of the water.
This conservation area is a little off the beaten path, but well worth the extra effort to find. Pack a picnic lunch, turn off the cell phone and really take some time to relax and unwind. 85442 Creek Line, Lucknow, ON