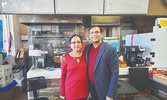 KwikBite Indian Takeout
You can't always tell a book by its cover. Sometimes the cover is a tidy, but non-descript Shell gas station and the story inside is an authentic East Indian take-out restaurant operated by a lovely couple who have adopted Goderich as their community.
When Mahendra and Jyoti Bhandari took on the Shell station on Victoria Street (Highway 21 North) in Goderich four years ago, it came with a Pizza Pizza franchise that they ran for a couple of years, but they didn't love running it and ended up giving up the pizza business. They ran just the gas station for a year or so, but after the pandemic struck and they had to run the business themselves full-time they decided to ease back into the restaurant business with food they are passionate about making.
In July 2020, they began serving samosas (a fried pastry with a spicy potato filling) and the menu grew from there. They now serve samosas, pakoras, chutneys, parathas (flatbreads), naans, rice, curries, mini Indian pizzas and wraps with a variety of stuffings and spices. They recognized that the customers in their new community might not be familiar with their cuisine so they have developed a number of combo specials to make ordering easy, and Jyoti is happy to help you pick the right amount of spice for your comfort level.
The price point for all of their menu items has been kept intentionally low so that the food is accessible for everyone. One of the most interesting aspects of this business and their owners is their generosity of spirit. In an effort to look after their newfound home, there is a poster in the window offering free take-away food for the elderly, homeless and needy neighbours, as well as free tax filing and accounting service for anyone who finds themselves in need.
You can find them on Facebook at kwikbite.takeout to check out their menu options. 137 Victoria St. N. Goderich.