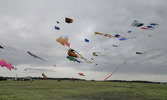 Lucknow - Kites in the Field Festival
The annual Kites in the Field Festival at Lucknow's Graceland is always one of the year's most whimsical weekends. The family friendly event will be taking to the skies on Sept 23 and 24 this year, and features all sizes of stringed flyers flown by professional kiters. Previous years have even featured kites as large as a school bus!
Now in its eighth year, the celebration started out as a shared enthusiasm between a local husband and wife. Lucknow's Murray and Elizabeth Irvin have been married for over 40 years, and became infatuated with these simple sky machines over a decade ago. This led to Murray learning to make his own kites, and the two have since helped to bring the always enthusiastic kiting community to Lucknow. Their collective goal is to share their passion with locals, watch people watch the skies, and, hopefully, to help inspire the next generation of frequent flyers.
In addition to traditional diamond and box kites, visitors will have a chance to see a menagerie of fascinating creatures flying high, from deep sea cephalopods sailing into the great blue yonder to massive prehistoric dinosaurs mingling weightlessly with the clouds. This year, weather permitting, there will be a night fly on Saturday night, which is sure to offer up a veritable visual feast of illuminated sky art.
In keeping with the simple pleasures of kiting, the event itself is an uncomplicated affair. Admission is free for all, and it is suggested that guests bring lawn chairs and a picnic lunch to make a day of it. Amateur kiters are also encouraged to bring their favourite flyers and share the skies with industry pros. The Irvins promise that even if you've never flown one before, somebody will take the time to give you some tips and show you the ropes. Don't have a kite? They will be available to buy at a reasonable price at the event.
So, whether you're a fan of carbon fibre or fibreglass frames, stunt or soul kiting, or just like to watch pretty, colourful things fly in the sky, head out to Lucknow on September 23 and 24 to check out Kites in the Field. The aerial art show starts at 12 pm and runs until 4 pm each day. The night flight (weather permitting) takes place Saturday only from 7:30 pm to 9:30 pm. Graceland, 557 Walter St., Lucknow