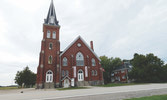 Kingsbridge Centre
Rural Ontario was built by people coming together to make their communities better. That spirit lives on in the lakeshore hamlet of Kingsbridge where the community organized to save St. Joseph's Catholic Church when it was closed in 2012.

Jennifer Miltenburg is a director on the committee formed to renovate the former church which now operates as the Kingsbridge Centre. She says the church was the only meeting place for the community, and they weren't prepared to see that disappear. They formed a charitable organization, bought the church from the diocese for $1 and set about renovating the building and bringing it up to current code.

When the Centre opened, about 300 residents of Ashfield-Colborne-Wawanosh gathered to celebrate.
Since the group took possession of the building over 180 people have volunteered their time and talents, and many more have supported the centre financially, Miltenburg says. "It is not only a community project, it is much wider in scope – there are already way more volunteers than there are community members."

You can also get more information on this unique community centre at kingsbridgecentre.ca. You can find Kingsbridge on Highway 21 south of Amberley.