Tasting trail: New culinary experiences in Huron County communities reflect the growing diversity in the area
By Mark Nonkes
Maria's Wok n' Dine
Maria Rebuldela stirs a pot of coconut milk, lemongrass, basil and chicken. "Cooking is my passion," she says, while making soup. "I just enjoy it. Sometimes you serve 150 or 100 people, sometimes it is just a few. It doesn't matter." The mother of three brings her passion to the plate five days a week, offering flavours from her travels and her homeland at Maria's Wok n' Dine at 23 Main Street in Seaforth.
The restaurant, run by Maria and her husband John Staffen, opened in 2018 and reflects growing diversity within Huron County.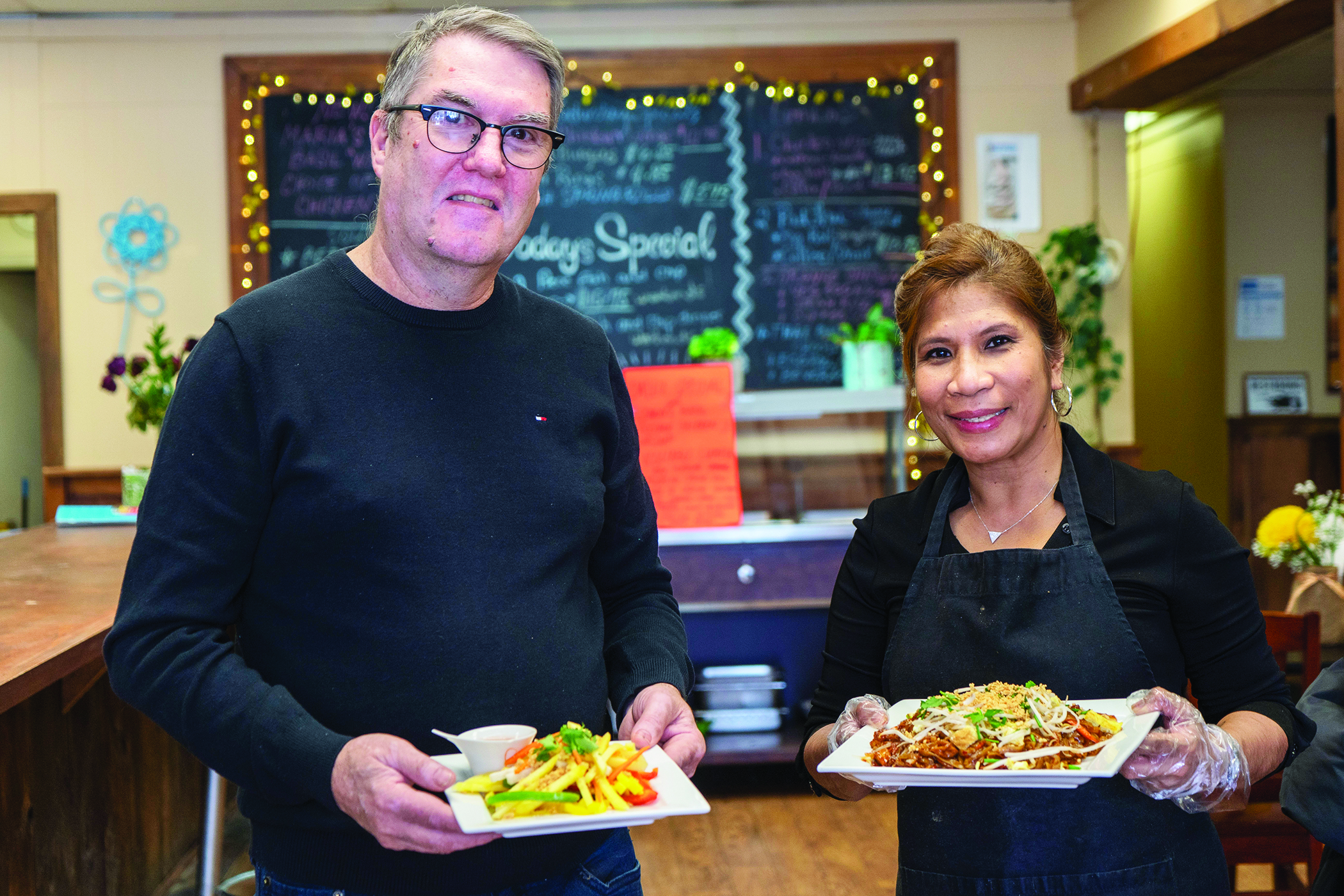 Maria's menu features Thai, Singaporean and Vietnamese dishes, along with food from her youth in the Philippines. Filipino food is a mix of sweet, salty and sour flavours, with dishes like kare-kare, which is beef or pork cooked with eggplant, string beans and a peanut sauce. Other Filipino staples, like adobo chicken or pork braised in soy sauce, vinegar, garlic and peppercorn or tapsilog, a garlic fried rice with a mix of beef jerky and a fried egg, are also available.
The restaurant's tables are filled with folks from Seaforth and surrounding communities, along with a growing number of temporary farm workers from the Philippines working in Huron County.
"Our lumpia, which are like spring rolls but bigger, are one of our most popular menu items. People enjoy tasting something different," John says.
Maria's menu is one that reflects her own history, crossing borders, working in Hong Kong, visiting countries throughout Southeast Asia, living in Australia and China, before arriving in Canada in 2011. "My sister had already moved here and set up a restaurant in Clinton," Maria explains. "I came to visit her and decided to stay." John and Maria met in 2015 and married a year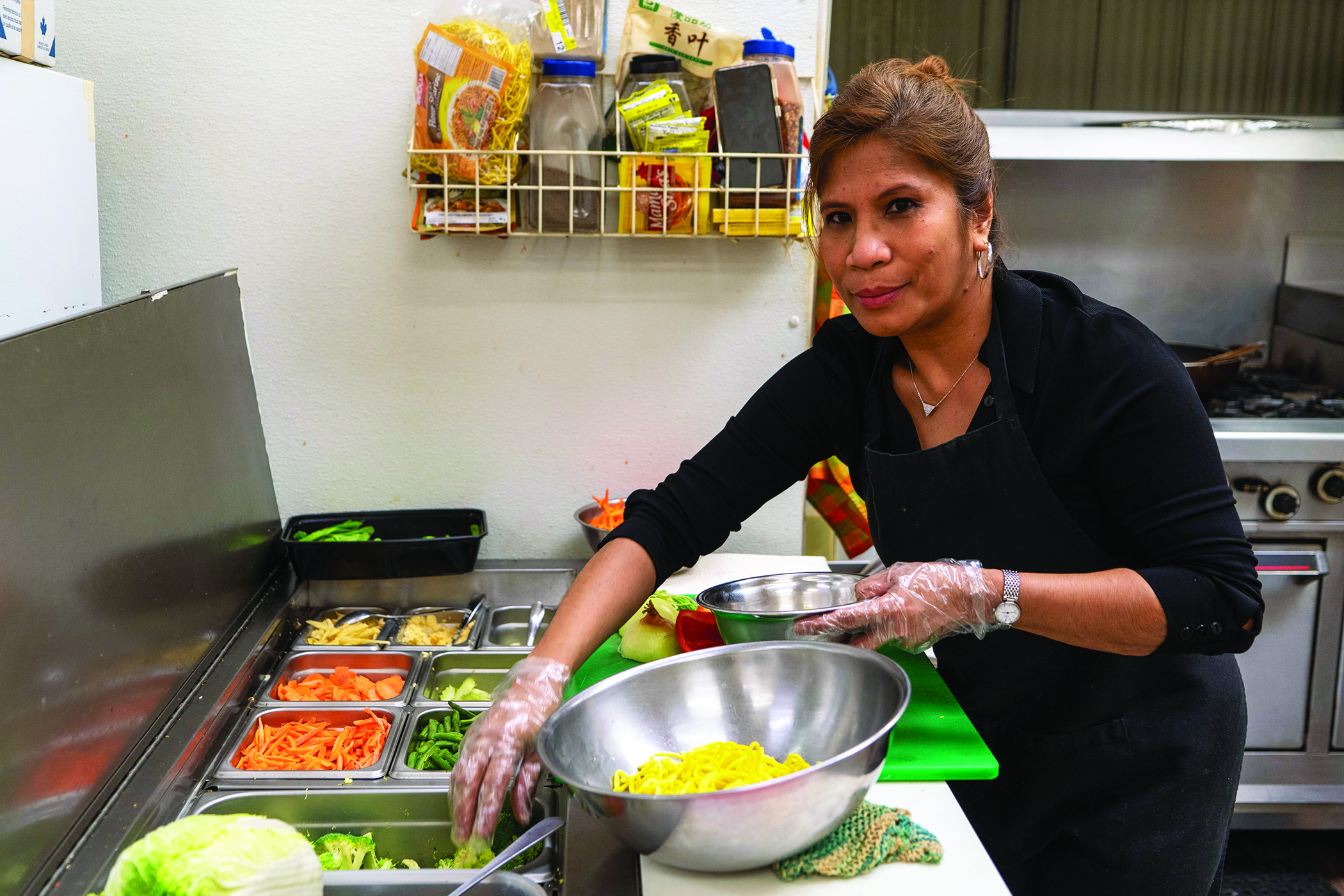 later.
Although Maria's sister's restaurant has now closed, when a former bistro came up for sale in downtown Seaforth, John and Maria stepped forward and started setting up their restaurant. Maria says that she has always been interested in cooking, an activity where she has bonded with people from other cultures.
"On opening day, there was a line-up. People were excited," John remembers. "They have kept coming back, even during COVID
and with take-outs, we have been busy."
There is little wonder why. Maria's food is freshly made, colourfully plated and offers vibrant, succulent flavours not routinely encountered. The portions are large and the prices reasonable.
Maria's Wok n' Dine is open for lunch and dinner from Wednesday to Sunday. More information can be found on Facebook at the page Maria's Wok 'n Dine or by calling 519-600-0142.
Goderich's Middle Eastern cuisine
In Goderich, Khawla Alsajer too is showcasing the cuisine from her country and her journey before arriving in Canada. The mother of five prepares a range of Syrian dishes, including shawarma, kebabs, falafel, wraps, hummus and soups from her kitchen that she offers as a catering service or as take-out meals.
Khawla arrived in Canada as a refugee in 2016, after fleeing Syria and spending time in Lebanon. Khawla's link to the food and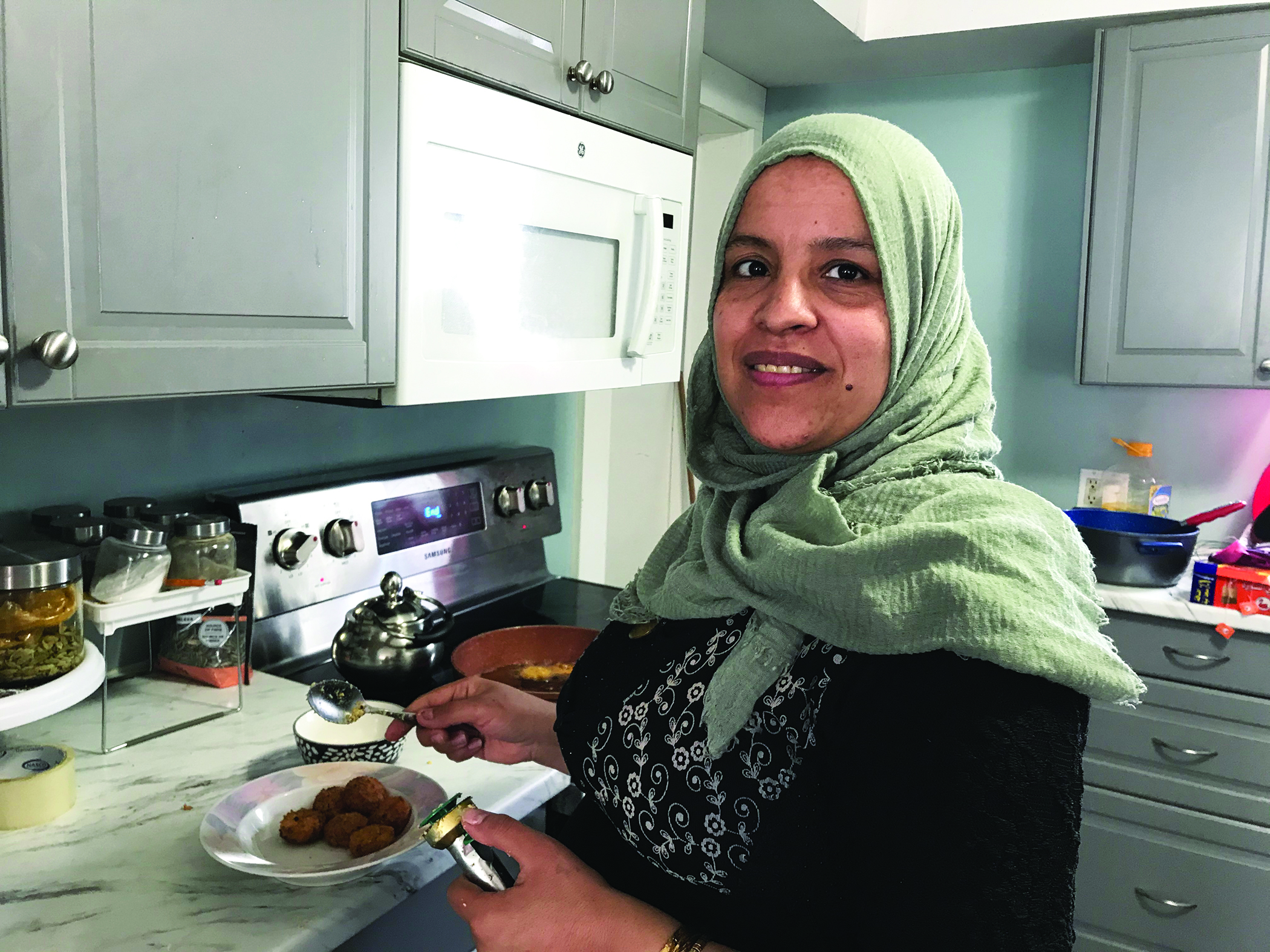 service industry spans three countries. In Syria, prior to the war, Khawla operated a market stall selling groceries and preparing food for the public, as well as cooking for parties and weddings and other events. After fighting in her homeland forced her family to leave, Khawla opened a small store selling food and candies in Lebanon.
In Canada, after learning English and finding work, Khawla turned her attention back to food. She has always enjoyed cooking and opened her business in the spring of 2021 to share a taste of her culture and journey with people in Goderich and nearby areas.
"I wanted to open my business here because it is what I have always done. I love cooking food from my home. I want to bring the feeling from that home to my new home in Canada, and I want to share that home with my new family here," Khawla says.
Khawla's menu can be found at her business's Facebook page: Khawla's Kitchen: Authentic Syrian and Lebanese Cuisine. Food can be ordered by calling 519-955-3019 and can be picked up at 58 Anglesea Street.
Wingham's Thai cuisine
Chef Singha's wok sizzles as he stands stoveside, stirring freshly cut broccoli and carrots before tipping a container of thick noodles and then a bowl of shrimp into the pan. Singha gently shakes the wok over the stove's flame, adding a medley of seasoning as steam billows. "We call it spicy noodles," he says. "It's one of our favourite things on the menu."
Singha and Jan Mekkluan are the owners of Wingham Thaiville, a restaurant on Wingham's main street that opened in March of 2019. Their restaurant features popular Thai dishes: mango salad, pad thai and sweet soy noodles, recipes that originate from their homeland.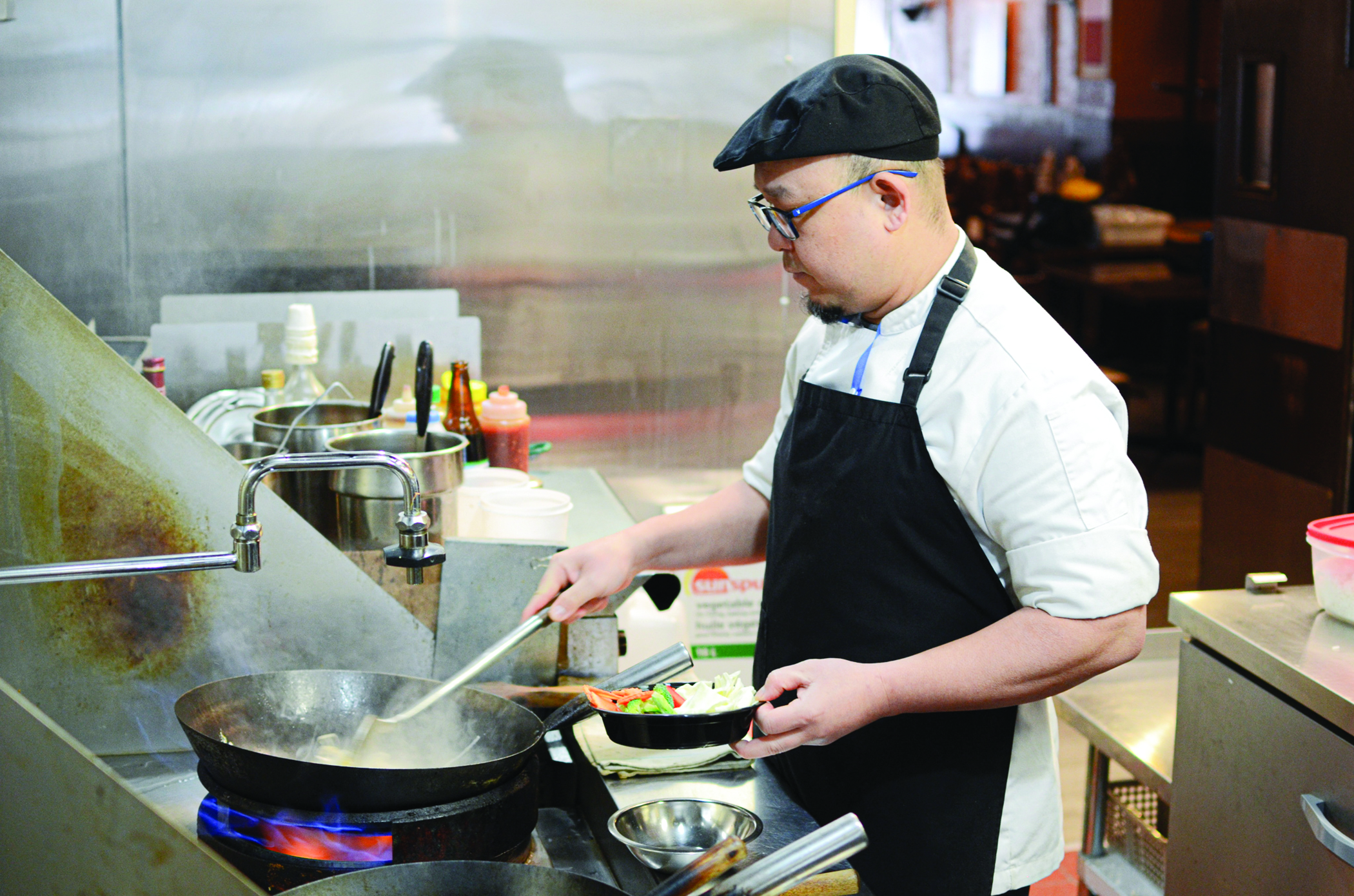 "I've been cooking since I was eight years old," Singha says. "My parents used to go to the rice fields and leave me to take care of my younger brothers. I started making fried rice, and I grew from there." By the time he was 12, Singha had a part-time job helping at an uncle and aunt's noodle shop in Bangkok, a city of 9 million famous for its intricately constructed Buddhist temples, river canals and vibrant street food scene.
After completing his education, Singha entered culinary school at age 18 and then worked in hotel kitchens as part of large kitchen teams. In 2008, he and his wife Jan moved to Canada where he was employed at Thai restaurants in Mississauga, Oakville, Brantford and Ancaster. "In Canada, I learned to be a one-man band. In Thailand, our kitchens were always a team. In Canada, I had to do cleaning, cooking, dishes, food prep work," Singha says. "It trained me to open my own restaurant."
In 2018, Jan and Singha bought the previous Maitland Restaurant. While still working in another restaurant, on days off they drove to Wingham to upgrade the restaurant, installing a new kitchen and renovating the seating area before opening in 2019. "At Wingham, we feel at peace," Singha says as he compares life in a small town to larger centres in which he's lived.
He says his restaurant has sparked curiosity from the community. "Many people have never tried Thai food before. For most people, it's a new thing," Singha says. "But people keep coming back. Word of mouth has made people interested to try something new."
Throughout Singha and Jan's menu, the flavours of Thailand emerge: an intricate balance of salty, sweet, sour and spicy. Additional menu items include coconut sticky rice, a Thai ginger stir-fry, a variety of curries and fried rice dishes.
Singha and Jan admit that COVID-19 shutdowns have been a challenge for their restaurant but that Friday and Saturday evenings continue to be busy. For now, they say, they remain a take-out-only restaurant.
Wingham Thaiville is located at 194 Josephine Street in Wingham. More information about their menu can be found at https://thaiville.ca or by calling 1-519-781-7988.
Bayfield's tastes of India
The Bayfield Tandoori House, opened in 2021, brings the authentic taste of India to the picturesque village of Bayfield. The Ashwood Inn's Hina and Mike Patel teamed up with Toronto-based chef Pradeep Singh to co-create a menu that featured delicacies from all the states of India. Bayfield Tandoori House captures the essence of Indian hospitality and the richness of Indian cuisine.
Hina and Mike take immense pride featuring the tastes of their homeland. The couple moved to Canada in 2015 and purchased the Ashwood Inn in 2019, bringing with them 27 years of experience in the hospitality industry.
Despite the setbacks from the COVID-19 pandemic, in the summer of 2021, Hina and Mike launched Bayfield Tandoori House, the village's first Indian kitchen serving authentic Indian grills and curries.
In addition to signature Tandoori delicacies, the menu features some of the most loved snacks from different parts of India and a wide variety of vegan and popular Indian dishes.
The Bayfield Tandoori House will reopen in May 2022. It can be found at 34777 Bayfield River, with a menu available at https://www.theashwood.com/menu or by calling (519) 565-4089.
Food reflects growing diversity
In the 2021 Census, Huron County recorded more than 61,000 people, a population increase of more than 2,000 from the 2016 Census. Like many other parts of Canada, Huron County is seeing increases in the number of immigrants and first-generation Canadians settling in its communities.
"While we don't have data from the 2021 Census yet of where people come from, we know from 2016 that there is a growing number of people from Asia, Africa and Latin America who are settling in Huron County," said Kristin Crane. In 2016, Statistics Canada recorded that 4,200 people who live in Huron County were immigrants.
Sinead Cox, a local historical non-fiction author and the Curator of Engagement and Dialogue at the Huron County Museum, points to generation upon generation of immigrants moving to Huron County, bringing with them diverse languages and traditions.
"Immigrants always bring their culture with them and food is a great way to experience that culture," Cox says.