Huron County Pie Trail
Save your fork, there's pie!
Are there any happier words out there? Here in Huron County we love a good pie, and we love to hear those words after a wedding banquet, country supper or family reunion barbeque.
However, this year, we will not be attending those special events, so we thought, why not look for all the places you can buy a really fine pie and start a Huron County pie trail?
We are going to invite all of you to participate as well. We'll tell you about some great pies we have tried recently, as well as a few that are on our radar, and you can add your own suggestions via our social media @stopsalongthewayhuron on Instagram or Stops Along the Way on Facebook.
"Things-in-Pastry" could, and possible should, be an entire food group. All the different types of pastry and pies alone can fill a recipe box. But for the purposes of our delicious research we looked for whole pies to purchase and take home to eat. As our wonderful restaurants begin to open again over the summer, we plan to continue the search for more pie by the slice.
We started with an exceptionally fine apple crumble pie from Zehr's Country Market just south of Bayfield (8). We loved the crust and the cinnamon sweet apples. Zehr's has a long list of pies baked right on site and will do other pies by request. While there, you can stock up on other local items to make a complete dinner.
Make-A-Wish Cakes in Exeter (10) offers select items that you can order through its Facebook page. More than just cakes, Make-A-
Wish offers specialty donuts and pies as well. The selection varies so you need to check to see what is on offer every week. We did an easy low-contact pick-up as they do not have a shop. We tried a raspberry cheese pie and I may dream about that pie for a while. Thick cream in a graham wafer crust with just the right amount of raspberries on top.
A good bakery is a joy to find, so we are blessed with so many in Huron and a couple are true institutions of baked goods. Culbert's Bakery in Goderich (5) has been in operation since 1877 and Bartliff's Bakery in Clinton (7) since 1902 and pies are just one of the types of tasty treat available at both. Visitors to Huron know that dropping by one (or both) is always on the list. What is your favourite from these legends?
Maitland Market (6) is conveniently located on Highway 8 just outside Goderich and has a selection of its own produce, as well as local foods and pies baked on the spot. It is wonderful to walk in just as your pie is pulled out of the oven, we tried a crumbly-topped mixed berry pie. It was oozing with filling and the topping was superb!
Armstrong's Home Bakery in Lucknow (1) is well known both at its home location and at local farmers' markets. A summer is not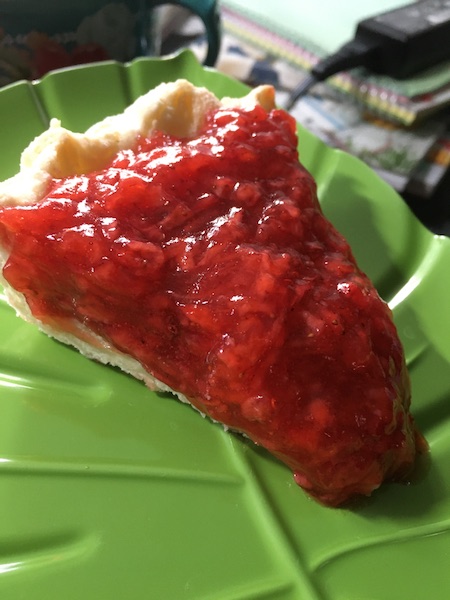 complete until we have a fruit custard pie. Using different local fruits in season, the custard then adds the right touch of creaminess to the delicious strawberry or other fruit.
Bayfield Berry Farm (9) is well known for all of its wonderful berry products, but we tried a lemon meringue and can say it was outstanding. The kitchen here is busy making all sorts of treats and you can even purchase beverages that are canned and bottled there if you want to complete your pie picnic.
Jerry Rader's Homestyle (4) Market is well known in both Zurich and Goderich as a great place to grab what you need to pull together dinner and its pies are the perfect end for that meal. The market lists 16 different types of pie on its website, so there is something for everyone.
Gorrie Line Produce (3) features fresh Mennonite produce and baking and we sampled a perfect elderberry pie. What could be more Huron County?
So, in this summer of new and more local adventures, we hope you will join us and help us to expand on a Huron County pie trail. We know we have only scratched the surface of the fabulous pies out there for sale. As farmers' markets and restaurants open again, we know you can do the really tough work of finding them and letting us know by tagging #huroncountypietrail and #saveyourforktherespie