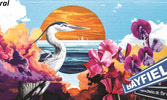 Mural Trail in Huron County
Huron County has a long history of public art pieces to commemorate events and complement downtown cores, from cairns and statuary throughout the region to the famed Allan Hilgendorf murals that graced many of the downtown cores.
Public art allows the community the opportunity to tell its story to both residents and visitors in a striking format. Whether the story is an event or a theme, a bold and emblazoned artistic representation in a high traffic area is a great way to engage and inform the public about the best elements of the community. The best pieces will surprise and delight the viewer, while engaging them with stories that the community wants to share.
With all of this in mind, Rick Sickinger, Huron County's Economic Development Officer, Tourism Sector Support, began a project to revitalize the appreciation of public art in the county. Once some federal tourism funding had been secured, and five communities identified, the project began to gain some momentum. An expression of interest call was sent out, which resulted in a list of approximately 30 mural artists in the region.
Exeter, Clinton, Seaforth, Wingham and Bayfield all formed local committees to begin their journey to a new mural. Although the County of Huron was contracting the final murals from the artists, the local communities held the decision making power to ensure that the art that was being commissioned was representative of the town. The municipalities involved could select the final placement as well, as they would be responsible for the art beyond the creation.
Bayfield's mural is located on the side of the Bayfield arena and depicts Bayfield life in full colour - sunsets, sailboats, sweet peas and blue skies!
Wingham has unveiled a mural made up of painted panels on the side of the Wescast Community Complex that pays tribute to CKNX, Alice Munro, the Maitland River and agriculture in bold strokes.
Clinton's mural is a fantastical representation of life in the centre of the county and comes with an animation app. It's being installed on the Partners Paint & Paper store, visible to the main intersection in town.
Seaforth and Exeter were still in the process of finalizing their murals at the time of press, but all of the murals will be incorporated into a mural trail in Huron County. Watch www.ontarioswestcoast.ca for the final map and digital tour!