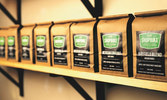 A county café tour

Is there anything better than a warm cup of coffee on a cool autumn morning? Or a pumpkin spice latte in the autumn months? Or even an iced version on warmer autumn days? We think not.

Come along as we explore the cozy cafés of Huron County in search of a good cup of java. Then head off and get your caffeine fix on a self-guided tour of Huron County's cozy cafés, many of which feature Huron County-roasted coffee beans.

A good place to start your tour is by heading straight to the source: Coastal Coffee, in the north end of Huron County, Ashfield Township to be exact. Located in the former Ashfield Presbyterian Church on Kintail Line, the bean stand is open 24/7, but Friday and Saturday mornings here are the best time to visit.
Owners Ben and Bri Gingerich prepare a perfect cup latte or pourover for you to enjoy while sitting in the gardens surrounding
the church. The Gingerichs are passionate about exceptional coffee and founded Coastal Coffee as a specialty roasting company, concentrating on small batches fresh each week. This passion and knowledge about coffee has made Coastal Coffee a household name in Huron County and beyond, with its coffee available in restaurants and markets across the region. Don't
forget to pick up a bag of the West Coast Dark (Huron County dubs itself Ontario's West Coast), or the Yirgz –Ethiopian Yirgacheffe to make at home throughout the week. 86252 Kintail Line about 20 minutes north of Goderich via Highway 21

Autumn is the perfect time of year to drive through the county, so next time you're off to Goderich, take your place in line at Cait's Café on the square for a drip coffee (featuring either Coastal Coffee or ShopBike Coffee) to enjoy on the patio. Cait's has become a staple on the square and the friendly atmosphere makes the lineups part of the coffee shop experience. The warm autumn sun hits the patio perfectly in the afternoons, making a coffee break there delightful. Also delightful is the
range of sweet treats to go with the coffee. The ginger cookies are top picks to accompany a hot coffee. 168 Courthouse Square, Goderich

A quick drive down the highway and you'll arrive on Bayfield's historic main street, where a stroll is perfect with a latte in hand and the best latte in Huron County comes from ShopBike. The coffee is roasted on-site and has the perfect kick to start the day. You'll find owners Leanne Kavanagh and Shaun Henry typically on site, roasting and grinding coffee in the rear of the store. Their coffee is also featured in River Road Brewery's coffee beer creation, "Thanks Ale Latte" for those who can't choose between
beer or coffee. 11Bayfield Main St N, Bayfield

Continuing along the coast, heading south on Highway 21, Grand Bend recalls images of beaches and sunsets, and Highway Girl Café is a good place to head for an iced drink, particularly on warm autumn days. The options seem to be endless with iced mochas, iced chais, iced herbal teas and even iced chai matcha on the menu. Grab a coffee to go and then head for a wander down the famous main street. 18 81 Crescent St, Grand Bend, ON.

Driving north from Exeter to the heart of Central Huron, a visit to Clinton is not complete without stopping for a coffee at Bartliff's, where bottomless cups are served to locals catching up over a good locally-roasted coffee. In the theme of coffee, the mocha square is an excellent dessert choice for the café tour. 46 Albert St, Clinton.