Great Lakes Helicopters
Thanks to Great Lake Helicopters, the Huron County gravel run is getting an upgrade. New this summer, passengers can book a helicopter flight out of Grand Bend with one stop at one of the lakeshore's breweries or wineries, or choose three from a list of six options.
With the rise in staycationers, the company is expanding its wine and beer tours to include other smaller establishments in the county in an attempt "to be more inclusive to the other microbreweries and wineries," explains Great Lake Helicopters owner Dwayne Henderson.
Cornerfield Wine, Bad Apple Brewing and even River Road Brewing are additions to the popular flights to Cowbell Brewing near Blyth where passengers are dropped off to sample beers, have some food and the overall Cowbell experience.
For a more romantic wine experience, passengers can either take a 20-minute scenic flight of the area before arriving at Dark Horse Winery or, the pilot will pick up guests from the winery to enjoy a charcuterie and wine tasting in-flight while flying over nearby Bayfield.
Eddington's in Exeter is another popular dinner destination with views over Huron County between departure and arrival. And there's no rushing through dinner with this service. The pilot will either wait for guests to enjoy their dinner or, depending on the evening's flight schedule, return at an agreed-upon time.
Henderson purchased the company at the end of 2020, but said it began operation 17 years ago. The flights range from chartered pickups in downtown Toronto for a flight out to Grand Bend on Friday afternoons in time for cottage weekends and returning on Monday morning to the office, to jaunts out to popular eating establishments in the county, and even landing in a secluded location for a surprise engagement.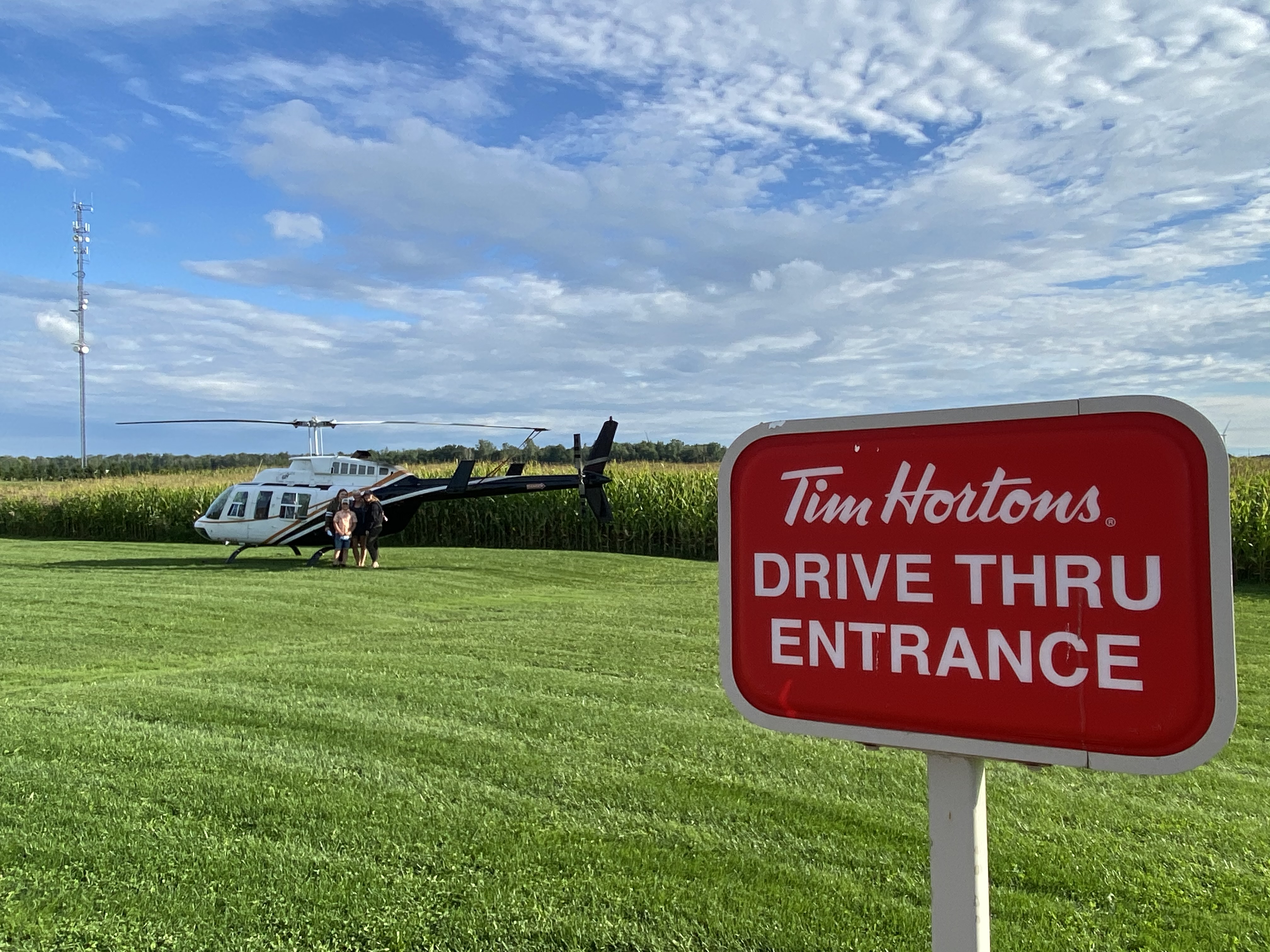 The company has a saying that, "if you can imagine it, we can fly it," says Henderson. He says, "People are pretty adventurous in terms of what they want to do." Photo shoots, elopements outside of Grand Band with an officiant and photographer awaiting the couple at a predetermined location and even surprise engagements in remote locations are all recent requests. Banner towing down the beach with a personal message is also on that list.
The fleet of 11 helicopters includes the R44, which is the main helicopter in use with a limit of up to 500 pounds or three passengers. All Huron County flights depart from Grand Bend. www.greatlakeshelicopter.ca/experiences/grand-bend