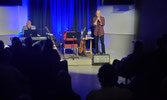 Grand Bend Place - Centre for the Living Arts
Grand Bend Place - Centre for the Living Arts is a beautifully-renovated space that seats 180 comfortably in theatre-style comfort, making it the latest live music venue in the county. Huron Shores United Church (HSUC) was considering a rejuvenation of its facility and during this process decided to design a space for the community; safe and inclusive, fully accessible and functional for the community's needs.
In 2019 the facility was opened and the need for community space was accepted widely. Meetings, events and concerts were the daily routine. But a pandemic moved in and everything was on hold.
Grand Bend Place - Centre for the Living Arts manages the building that is the home of the Huron Shores United Church. They have a unique template, according to Bob Illman, Booking Liaison, that is "creating community" among a variety of user groups.
The space already had great acoustics for music so the group paid special attention to both technology and accessibility in the recent renovations. The space is set up with sound and lights for concerts, along with the technology needed for livestreaming, which has proven an important element in the mental health of the community as it manoeuvered the pandemic with Zoom hybrid meetings for community groups and livestreamed concerts.
The spring saw sold out live performances by Dan Hill and several tribute artists. The venue is quickly gaining a reputation for being a great intimate space for concerts.
Check its website at www.grandbendplace.ca for their fall and winter lineup. 25 Main St W, Grand Bend.