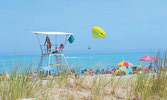 Grand Bend Parasail
There's another way to see the expansive Lake Huron shoreline along the edge of Huron County and that's during a parasailing adventure departing from summertime hotspot Grand Bend.
Canadian-born Lee Marcoux returned to the area after living abroad once his parents purchased a summertime residence in the coastal town with his family in tow. He fell in love with the area when visiting and eventually purchased a boat and started Grand Bend Parasail in 2012.
Marcoux and his family had spent years living in the Cayman Islands, Turks and Caicos Islands and Panama (to name a few) where he worked on yachts, but also in the skydiving industry where he inspected parachutes, maintained and packed chutes. Needless to say, safety is a top priority for Marcoux and Grand Bend Parasail.
Open from May to October (for those who don't mind the chilly temperatures in exchange for gorgeous fall colours along the coast), each tour lasts approximately 45 minutes. The parasailing lasts 10 to 12 minutes and adventurers can take in views over the Oakwood Resort to the north or the Beach of Pines and even further south to the Pinery depending on group size. But Marcoux says that they "let the customer tell us what area they'd like to fly over."
And while 10 to 12 minutes may not seem like a long parasail, Marcoux says that once people go up they realize it's quite a significant amount of time to admire the blue waters of Lake Huron from above and grasp how long the beach truly is.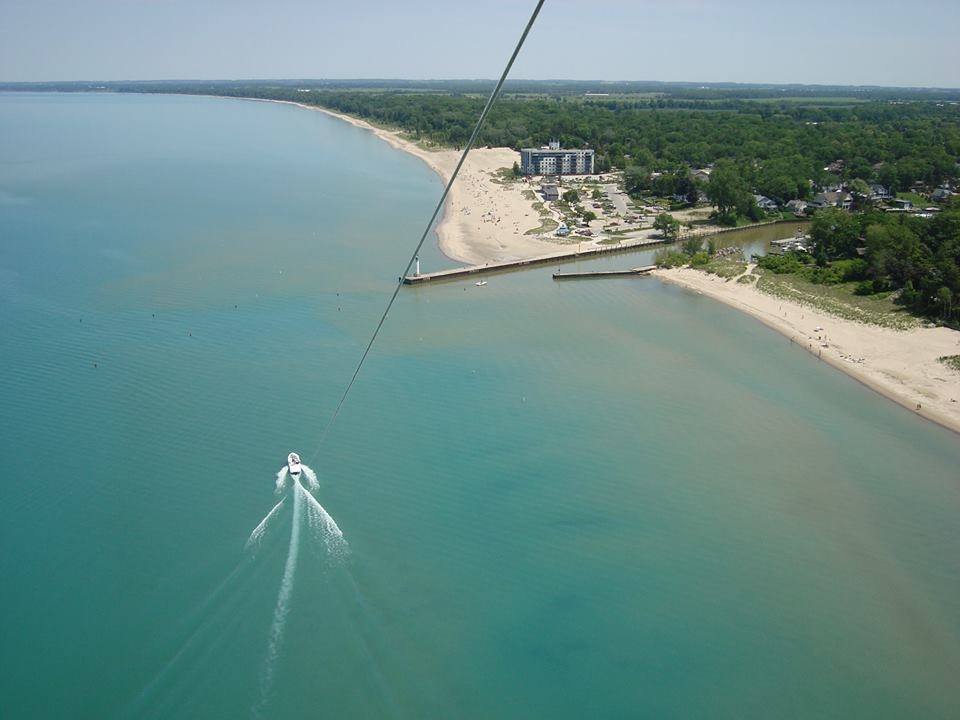 Marcoux works alongside a team that has expanded to include three captains: Captain Sean Bennett, born and raised in Cayman Islands, Nigel Walker, who hails from Australia and is starting this year, and Carlos Ramos, who is Canadian-born but has spent time living in the Philippines. While on board, it's common to hear English, Spanish and Tagalog spoken amongst crewmembers.
Not only has the team expanded, but the locations have too. While Grand Bend remains Marcoux's only Lake Huron location, he opened Parasail Adventures Toronto. With its base in Port Credit, parasailing enthusiasts experience the waters of Lake Ontario while taking in the Toronto skyline from above.
Guests are encouraged to book directly online, particularly if there's a specific date and time desired. A kiosk in Grand Bend provides an opportunity to book last-minute on the off-chance there's availability. Weekends though in the summer tend to be fully booked, Marcoux says. 77 Main St W, Grand Bend. www.grandbendparasail.com