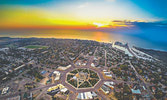 The Square


If you drive as far west as you can on Highway 8 in southwestern Ontario you will arrive at the Courthouse Square in Goderich. This unique destination is home to more than 180 small businesses nestled around a green park that is often bustling with a wide variety of events.
While the large gatherings may be on hold during the pandemic, the shops, restaurants and services are still busy finding new ways to reach their customers.
Locals call driving all the way around the eight-sided park "doing a ringer" and that is a good way to check out all that is on offer, but the real appeal of this shopping and entertainment district is how very walkable it is. With lots of free parking, you can pick a spot and start strolling from anywhere. There is everything from men's and women's clothing stores, boutiques with lovely gifts and a great selection of restaurants and cafés from which to choose. As you wander your way around and pop down the side streets, you will be amazed at the variety of things to see and do.
The wide sidewalk around the perimeter allows ample room for speedy shoppers on a mission to find just the right item, as well as space for families to stroll with an ice cream. In the past year, outdoor dining has become another way to get into the vibe of the square with several of the restaurants stretching their seating areas.
The green space that surrounds the commanding courthouse building has been transformed since it was devastated by a tornado in 2011. A nice variety of trees were planted and there is plenty of lush grass, or comfy benches to sit on and relax with a beverage.
The Square is known for hosting a wide variety of markets and festivals. A large performance stage is often the centre of attention, showcasing music, dance and theatre. Once restrictions on large gatherings are lifted, the weekly markets and frequent festivals will return to fill the calendar with activities for the whole family.