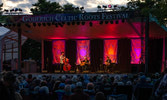 Goderich Celtic Roots Festival
By Nancy Fisher
It's time to set up your lawn chair and set your foot to tapping because the Goderich Celtic Roots festival is back August 5 to 7 in Lions Harbour Park. After two years of virtual programming the very popular festival is set to make a big return with a banner line-up of artists over three days and across five stages.
The artists this year will come from around the globe including Ireland, Scotland, Japan, Switzerland and, of course, across Canada and the United States.
O'Jizo, a group of multi-instrumentalists from Tokyo, and Clíodhna Ní Aodáin from Ireland/Switzerland with her Celtic cello were both winners of the 2021 Robinson Emerging Artists showcase and will be wowing audiences with their unique takes on the Celtic traditions.
And appearing for the first time will be Cherish the Ladies, an Irish music ensemble who have been touring for 37 years and are expected to be a huge fan favourite. Make sure to check out the website for a full line-up of all the featured artists.
The ever-popular Artisan Village will be open for shopping and craft demonstrations Saturday and Sunday afternoons. Browse the stunning array of hand-made traditional Celtic crafts for great gift ideas and special souvenirs of your weekend.
The week prior to the festival will be the annual Celtic College and Kids Camp where students learn from seasoned professionals in Celtic music, dance and craft art. The college has educated generations of enthusiasts and plays a major part in the sustainability of the festival. While the kids camp is a great way for the younger generation to be introduced to a variety of traditional art forms in a fabulous and inspiring setting.
The College and kids camp run August 1 to 4 (pre-registration required) and the festival runs August 5 to 7. Tickets available from the website or at the gate which opens at 11 am each day of the festival.
For more information about the festival and your stay please see www.celticfestival.ca